JSU Drama Opens Its Season with Chekhov's "The Seagull"
10/09/2014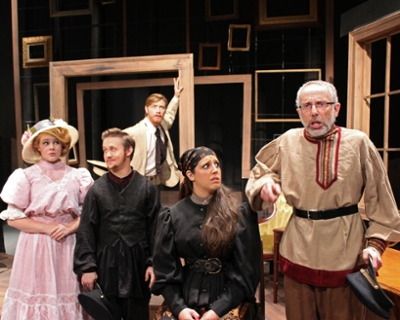 JSU Drama opens its season with Anton Chekhov's The Seagull, a classic work by Russia's most celebrated playwright. The performances will take place in the Ernest Stone Performing Arts Center on October 16,17, and 18 at 7 p.m. and on October 19 at 2 p.m. JSU students and personnel, senior citizens and military may receive tickets for $8 with general admission tickets being $12.
The Seagull, populated with imperfect, fascinating characters, is a darkly funny play that is poignant and entertains exploration of love and the power of art. The modern translation by Paul Schmidt highlights the comic elements in Chekhov's masterpiece.
The aging theatre star Irina Arkadina and her younger lover Trigorin, a tortured but celebrated writer, arrive at her brother's country estate to watch a play written by Arkadina's idealistic son Konstantin. He has written an avant-garde play in the hopes of creating a new form of drama that will break away from the old conventions that Arkadina has come to symbolize. Starring in the play is Nina, a naïve girl in search of the fame and glamour of the spotlight. Clashing values, romantic attractions, and unrequited love ignite a blaze of passions and rivalries that threaten the idyllic surroundings. As Arkadina faces her disappearing youth, Konstantin and Nina discover that artistic success can be measured in heartbreak. 
The Seagull features a cast of JSU students and faculty members under the direction of Michael Boynton. Resident Scenic Designer Jennifer Ivey has devised an abstract setting that mirrors the transparent façade of traditional artistic conventions. Costumes by Freddy Clements evoke the play's early 20th Century Russia setting. New resident Lighting and Sound Designer Robert Graham creates a charged atmosphere that reflects the inner turmoil pulsing underneath the quiet country life.