JSU Awarded $2.2 Million Grant to "LInC" Academic Learning Communities
10/07/2014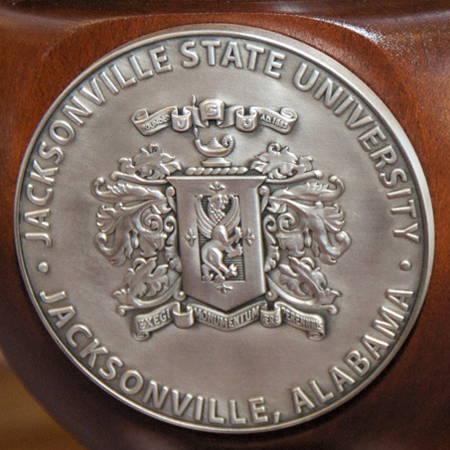 The U.S. Department of Education has awarded Jacksonville State University a $2.2 million Strengthening Institutions grant to increase student academic engagement by building Learning Intensive Communities (LInCs) on campus.  
"The research on college student success tells us that students who are more engaged are more successful," said Dr. Janet Moore, director of Academic Enhancement and Tutoring Services. "By focusing on increasing opportunities for academic engagement outside of the classroom, it is our hope that students will stay in college and be more academically successful overall."
Over the next five years, the grant will enhance student support services in a variety of ways. The Academic Center for Excellence tutoring program will expand the number of tutors and the number of courses supported by Supplemental Instruction. Walk-in tutoring for courses students traditionally find more challenging – such as math, biology, chemistry and physics – will be available. A research and writing laboratory will also be created, as well as a resource library for students and tutors. 
"The benefit to JSU students is the extension of current academic support services and the addition of support services that are more tailored to student needs," Moore said. "For example, non-traditional students or students who work may have difficulty finding time for a scheduled tutoring appointment each week, therefore the drop-in format might work better."
Hiring more tutors means additional campus jobs will be available for students. Moore said students who work on campus tend to be more academically successful than those who work off campus – tutors and Instructional Support workers in particular.  
"The true measure of understanding is whether you can teach it to others," Moore said. "Our tutors and SI leaders grow academically because they are, in effect, teaching others. Both the increase in campus jobs, as well as the increase in academic engagement across campus, should translate into greater student success and retention." 
In addition to student workers, three new staff positions will be created at JSU to guide the LInCs efforts: a LInCs coordinator, an administrative assistant and a retention specialist. The team will be responsible for creative a response system to help identify at-risk students in need of academic assistance, connecting those students to the appropriate resources, and monitor the effectiveness of those interventions.
The JSU Institute for Research and Collaboration applied for the grant, with work from team Dr. Alicia Simmons, Vice President for Planning, Research and Collaboration; Lynn Garner, Project Manager; and Allison Newton, Coordinator of Proposal Development. 
"The Institute for Research and Collaboration is very proud of Dr. Janet Moore and her work on the Strengthening Institutions Program proposal," Simmons said. "The Office of Institutional Research and Assessment and I look forward to working with Dr. Moore in the evaluation of the LInCs program."
Moore said, "I am so excited about this grant and what it will mean for our students and their level of academic engagement outside the classroom."
To learn more about ACE tutoring or how to become involved in academic advancement, contact Tutoring Services at 256-782-8223.