Bands from Throughout the Southeast to March at JSU Stadium on October 11, 18
10/09/2014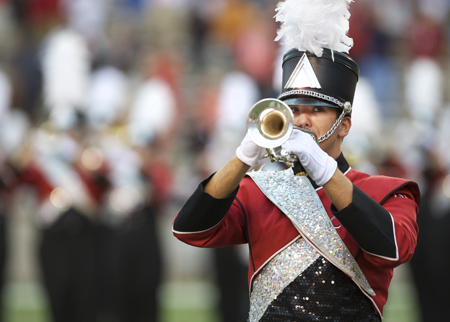 For the next two Saturdays, October 11 and 18, the Jacksonville State University campus will be alive with music, percussion and drill as the university hosts two major band competitions.
On October 11, bands from Alabama, Georgia, South Carolina and Tennessee will march onto Burgess-Snow Field to compete in the Bands of America Regional Championships. JSU's BOA Regional event is one of about 15 being held this fall across the nation; it typically draws 20,000+ fans to Jacksonville and the JSU campus. Bands of America Championships are recognized as the premiere high school marching band events in the United States. In addition to giving fans the opportunity to witness world-class performances, JSU's BOA Regional gives the university another opportunity to roll out the welcome mat at the "Friendliest Campus in the South," introduce prospective students and their families to the JSU experience, and showcase its own world-renowned band, the Southerners and Marching Ballerinas. It was at the 2009 Bands of America Super Regionals in Atlanta that the Southerners performed the show that paved the way for the invitation to lead the 2012 London New Years Day Parade. 
For BOA Regional general information and ticket prices (including individual and group discounts), please visit www.musicforall.org. Advance tickets are available by phone at 800-848-BAND and will be available at the gate on the day of the show.
On October 18, high school bands from Alabama and Georgia will compete in the JSU Contest of Champions in the JSU Stadium. This afternoon of music and showmanship will begin at 12:45 p.m. as the competitors take to the field. Just before the awards presentation, at 9 p.m. JSU's own Marching Southerners and Ballerinas will perform in exhibition.
Admission to the Contest of Champions is $7, free for children under 6. Tickets are available at the gate.
For more information about the Contest of Champions, please visit www.jsucontestofchampions.com.
An important note for JSU students, faculty and staff-- To accommodate the buses and equipment trucks for these two events, the two parking lots in front of Stephenson Hall and the Theron Montgomery Building must be cleared of all vehicles by 9 p.m. on Friday, October 10 and Friday, October 17. Thank you in advance for your cooperation as you help us give our guests a great experience while on our campus!