T-Pain Concert, Spirit on Mountain Street Bookend 2014 Move-In, Welcome Week
08/05/2014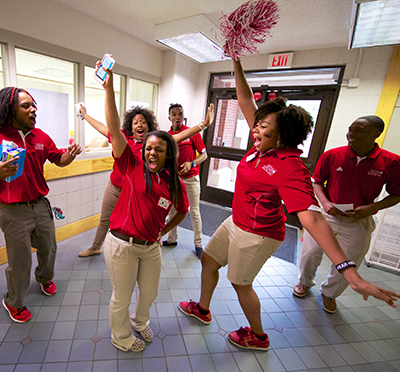 JSU Housing and Residence Life staff cheer for returning students at the 2013 Move In Day. (Steve Latham/jSU)
Where did the summer go? 
It hardly seems possible that area schools including Jacksonville State University will spring back to life in fewer than two weeks. With the return to class comes JSU Move-In and SGA Welcome Week, kicking off a semester full of great activities for students and the community alike.
T-Pain, Matt Carroll and the Browncoats in Concert
Move-In takes place on Saturday, August 16. To celebrate the return to campus, later that evening JSU's Office of Housing and Residence Life will sponsor T-Pain in concert on Dillon Field adjacent to the JSU Stadium. The concert will be free for JSU students and is also open to the public. Matt Carroll and the Browncoats will open the concert evening at 7 p.m., followed by T-Pain.
General admission tickets are $20 in advance, $25 at the gate. Tickets are available online via ExtremeTix at http://bit.ly/TPain-at-JSU or at the gate. The gate opens at 6 p.m. on the date of the concert. Concessions will be offered on site and all tickets are standing room. 
Welcome Week
On Monday, August 18, there will be Movie Night on JSU's Quad. Students are invited to gather and watch Divergent. There will be free popcorn, cotton candy and shaved ice. Showtime is 7 p.m.
On Tuesday, August 19, the campus will welcome freshmen at convocation at 6:30 p.m. on Burgess-Snow Field at JSU Stadium. Immediately following will be Get On Board Day and a cookout on Dillon Field. This gives students the opportunity to preview and join campus organizations.
After soldiering through the first day of classes on Wednesday, August 20, students are invited to relax and enjoy SGA Casino Night from 7-10 p.m. in the Leone Cole Auditorium.
The fun continues on Thursday, August 21, as mindreader Eric Dittleman appears in the Theron Montgomery Building Auditorium at 7 p.m. Dittleman has been seen on X-Factor and Ellen. 
On Friday, August 22, there will be a paint party and DJ from 7-9 p.m. on Dillon Field.
Spirit on Mountain Street
Finally, on Saturday, August 23,  JSU invites everyone to bring their appetite and their school spirit to JSU Stadium for "Spirit on Mountain Street," an evening of food and fandom benefiting a great cause. 
Jacksonville State University, the City of Jacksonville and area civic organizations are teaming up again to co-host the annual gathering that features the perennial favorite "Taste of the Town," a tasters fair benefiting JCOC, a local nonprofit organization that offers short-term assistance for individuals and families in need. This year for the first time, the Gamecocks will host the annual JSU Fan Day as part of Spirit on Mountain Street. Also on tap for the evening is a community-wide pep rally featuring the JSU Gamecocks football team and the internationally-acclaimed Southerners and Marching Ballerinas, along with teams and bands from area high schools.
The festivities begin at 2:30 p.m. with live music. At 3 p.m. JSU Fan Day will take place at Stephenson Hall. JSU fans of all ages are invited to come and meet the football players and enjoy this day of appreciation for Gamecock fans of all ages. This will be followed from 4-6 p.m. with the Taste of the Town and Kids Zone, which will be sponsored by the Jacksonville Exchange Club. Proceeds from the Kids Zone will go to prevent child abuse. Following Taste of the Town, the university will host a pep rally and showcase the football team at the last pre-season scrimmage game. 
The Fan Day, pep rally and scrimmage game admission are free. Tickets for the Taste of the Town are $10 for 10 and may be purchased on site the evening of the event. 
Also in conjunction with Spirit on Mountain Street, the Office of Student Life and JSU's Summer Reading Program will sponsor the JSU Glow Dash. All proceeds will be donated to St. Jude Children's Hospital to support cancer research. The Glow Dash begins at 7:30 p.m. on Dillon Field. All participants will receive a t-shirt and glow supplies. To participate, register on Active.com. Entry fee is $20, $25 day of race (on-site registration begins at 6:30 p.m.) 
This first week of activities is only the beginning of what is expected to be an exciting academic year. We look forward to seeing everyone back on campus!