Brett Johnson Elected Chair of Statewide SGA Presidents' Council
08/08/2014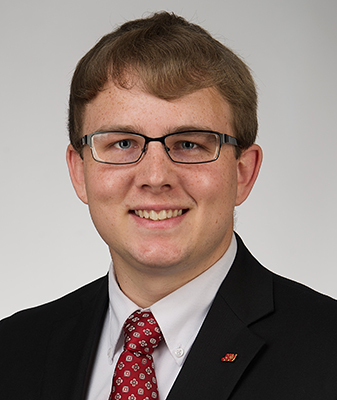 Jacksonville State University Student Government Association President Brett Allen Johnson was elected on August 4 to serve as the 2014-2015 Chairperson of the University Student Presidents' Council.
The University Student Presidents' Council (USPC) consists of the student government presidents from all public four-year institutions in the state of Alabama and is the only council of its kind in the state.  The USPC is an affiliate of the Higher Education Partnership, which serves as the voice for all public four-year institutions in Alabama. 
"Working with SGA Presidents around the state is how we will make sure that lawmakers don't forget who we are," said Johnson. "Using the collective voice of all fourteen SGA Presidents, vested with the power of every one of their school's students, we can effect positive change in Montgomery and throughout the state."
The USPC held its annual meeting in conjunction with the Higher Education Partnership's Student Leaders and University Advocates' Conference to elect officers and set their agenda for the year. Johnson said he planned to engage the group in a statewide community service initiative to help collect food and supplies for needy students in K-12 schools around the state.

"There are so many children in our public schools that only get to eat once or twice a day – while they're at school," said Johnson. "We know that being fed and being prepared to learn helps improve not only a child's quality of life, but their achievement levels as well. We just hope that we can use our resources to help make a positive impact on their lives."
In addition to this, Johnson challenged the council to participate in an initiative to register 1000 new voters at Alabama public universities this year. "Our whole purpose is to increase the impact higher education makes on state and local policy," said Johnson. "What better way to make our voice heard than at the polls?" 
Other officers elected for the USPC were Vice Chair Danielle Watson from University of South Alabama, Vice Chair Matthew Thompson from Troy University, and Secretary Kekoria Greer from University of North Alabama. Brett said he plans to organize monthly conference calls with the student body presidents from across the state to help them reach their goals and stay connected.

Brett Johnson is a native of Gadsden, Alabama and is a senior dual-majoring in Political Science and Communication. Brett was elected SGA President at Jacksonville State University in March 2014.
Photo: Brett Johnson (Matt Reynolds/JSU)