Annual Spirit on Mountain Street Festival Returns to Campus August 23
08/12/2014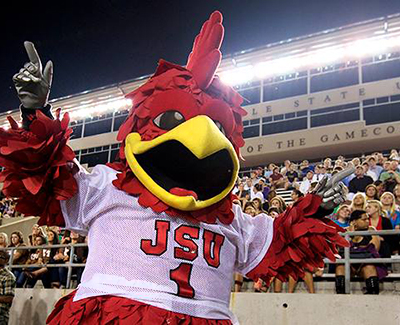 JSU Mascot Cocky entertains the crowds at a previous community pep rally in JSU Stadium. (Steve Latham/JSU)
Bring your appetite and your school spirit to JSU Stadium on Saturday, August 23, for  "Spirit on Mountain Street," a day of food and fandom benefiting a great cause. 
Jacksonville State University, the City of Jacksonville and area civic organizations are teaming up again to co-host the annual gathering that features the perennial favorite "Taste of the Town," a tasters fair benefiting JCOC, a local nonprofit organization that offers short-term assistance for individuals and families in need. Also on tap for the evening are JSU Fan Day and a community-wide pep rally and scrimmage game featuring the JSU Gamecocks football team and the internationally-acclaimed Southerners and Marching Ballerinas, along with teams and bands from area high schools.
The festivities begin at 2 p.m., when fans can listen and watch as the and Ballerinas practice. At 2:30 p.m., local musicians take the stage. Performing between 2:30-6:30 p.m. will be Riley Green, Blake Flood, Tim Johnson and Kim Nichols, and Tony Irby. At 3 p.m., JSU Fan Day kicks off in Stephenson Hall. JSU fans of all ages are invited to come and meet the football players and enjoy this day. This will be followed from 4-6 p.m. with the Taste of the Town and Kids Zone, which will be sponsored by the Jacksonville Exchange Club. Proceeds from the Kids Zone will go to prevent child abuse. More than 40 local restaurants will serve their most delicious offerings during Taste of the Town, and there will also be a cake auction for JCOC. Following Taste of the Town, the university will host a pep rally featuring football players, coaches, bands and cheerleaders from JSU, Jacksonville High School, Pleasant Valley High School, Jacksonville Christian Academy and White Plains High School. Following the pep rally, the Kitty Stone Singers will perform the National Anthem before the Gamecocks take the field for their last pre-season scrimmage game. 
The Fan Day, pep rally and scrimmage game admission are free. Tickets for the Taste of the Town are $10 for 10 and may be purchased on site the evening of the event. 
For more information or to sign up as a Spirit on Mountain Street Sponsor, please call David Glass, (256) 591-6462. 
Visit the Spirit on Mountain Street Facebook Page
Also in conjunction with Spirit on Mountain Street, the Office of Student Life and JSU's Summer Reading Program will sponsor the JSU Glow Dash. All proceeds will be donated to St. Jude Children's Hospital to support cancer research. The Glow Dash begins at 7:30 p.m. on Dillon Field. All participants will receive a t-shirt and glow supplies. To participate, register on Active.com. Entry fee is $20, $25 day of race (on-site registration begins at 6:30 p.m.)