JSU Drama Announces 2014-2015 Season
07/22/2014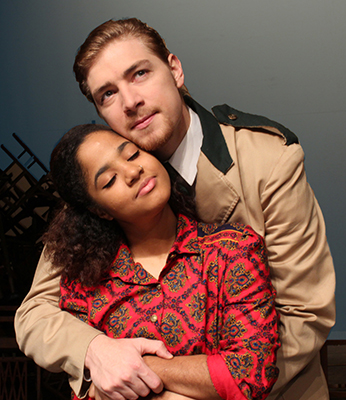 The Jacksonville State University's Drama Department proudly presents its 2014-2015 Season of Plays.
The Seagull by Anton Chekov
October 16-18 at 7:00 PM and October 19 at 2 PM
The season opens with a classic work by Russia's most celebrated playwright. When an aging theatre star, her son the idealistic playwright, her lover the famous writer and a lovesick actress gather at a country estate, it ignites a blaze of passions and rivalries. Populated with imperfect, fascinating characters, this satiric and darkly funny play is a poignant and entertaining exploration of love, life and the power of art.
The Mousetrap by Agatha Christie
November 13-15 at 7 PM and November 16 at 2 PM
A woman is murdered in London.  Travelers begin to arrive at the Great Hall of Monkswell Manor. Already an uneasy group, the guests become even more nervous as they are snowed in and realize that one of them may be not be what they appear.  One of the most famous and well-loved murder mysteries to be put on stage, The Mousetrap is the worlds' longest running play with over 60 years on the West End in London.  JSU Drama is proud that one of their students will take the helm as director of our production.
A Year with Frog and Toad Book and Lyrics by Willie Reale Music by Robert Reale 
February 19-21 and 26-28, 2015 at 7 PM and Feb 22 and March 1 at 2 PM
Based on the books by Arnold Lobel and nominated for 3 Tony® awards, this show follows two great friends through all four seasons as they learn what it means to be best friends. Planting a garden, flying a kite, or sledding down a hill, Frog and Toad learn about friendship and what makes us all special.  Sure to be a favorite among children and adults alike, the show features many of the stories we love and remember set to a jazzy, upbeat score.
To Tread Among Serpents by Kelly McBurnette-Andronicos
April 9-11, 2015 at 7 PM and April 12 at 2 PM
Winner of the 2014 Southern Playwrights Competition
Loosely based on true events, this year's winner explores the aftermath of a double murder in Rabittown, Alabama and the infamous woman convicted of the crime.  Juanita Cohen, a  New York reporter seeks to find out why pig farmer Violet Haight murdered her boyfriend and his brother.  Not satisfied with the explanation, Juanita begins to publish her own version as she continues to dig for the truth.  Will she find it?  
JSU Drama Student Showcase and One Acts
April 2015, time and date TBA
Join us for a special showcase of our very talented students' work and achievements.  The evenings will combine our directing class one acts with displays of our student's achievements in design, technical work, film and performance.
Season tickets are available for purchasing in August and single tickets will be as of October.
Single Ticket Prices: 
Non-Musical:
Adult -$12
Student/JSU Employees/Sr. Citizen and Military- $8
Musical:
Adult-$15
Student/JSU Employees/Sr. Citizen and Military- $12
Season tickets (including tickets to all four main stage shows plus student showcase performances):
Adult-$41
Student/JSU Employees/Sr. Citizen and Military-$33
Tickets may be purchased by phoning the JSU Drama Department Box Office,  256-782-5648.
Note: The box office phone will be answered for one hour prior to performances. Preferred seating cannot be guaranteed. Hearing assistant devices are located in the box office for use during shows.
For more information, visit the JSU Drama website
Photo: A scene from the JSU Drama production of "Antigone." (courtesy, JSU Drama)