Three Outstanding Educators Inducted into JSU Teacher Hall of Fame
06/22/2014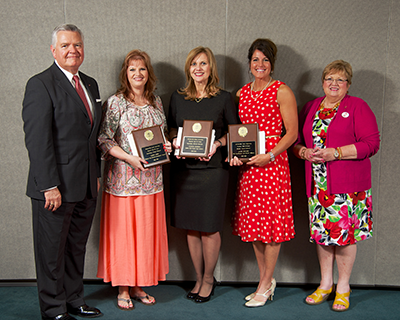 Jacksonville State University's annual Teacher Hall of Fame awards banquet was held May 9, 2014 in Houston Cole Library. Three inductees, one each in the elementary, middle school and secondary divisions, were announced. 
The inductee in the elementary school division was Tammy Davis of Oxford Elementary School in the Oxford City system. Middle school inductee was Laurie Brasher of Elouise and Harold Williams Intermediate School in the Pell City system. Secondary inductee was Amanda Beason of Leeds High School in the Leeds City system. 
The keynote speaker for the banquet was Dr. Jeff Goodwin, Oxford City Board of Education Superintendent. President William Meehan of Jacksonville State University announced that a $1,000 stipend for use by the inductees to enhance their professional development was mailed to the principal of their respective schools. Mr. Jerry Burfitt, president of the Scottish Rite Foundation of Alabama, presented a certificate of recognition by that organization and also indicated that a check would be mailed to the inductees.
Photo: The three 2014 divisional inductees into JSU's Teacher Hall of Fame are shown with JSU President Dr. William Meehan (left) and JSU Provost and Vice President for Academic and Student Affairs Dr. Rebecca Turner (right). The teachers are, from left: Tammy Davis (elementary division), Amanda Beason (secondary division) and Laurie Brasher (middle school division). (Steve Latham/JSU photo)