June 21 'Bluegrass on the Rim' to Feature Ronnie Reno, Tim Watson, More
06/12/2014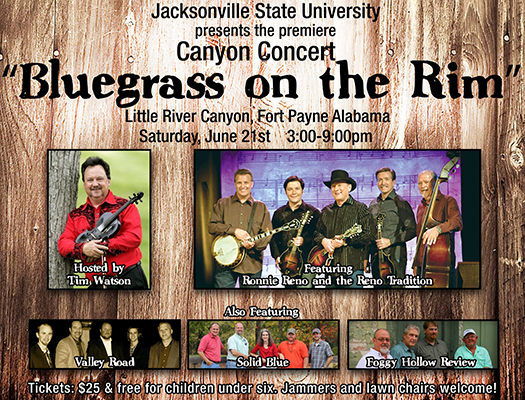 The Little River Canyon Center is pleased to announce its premier Canyon Concert. "Bluegrass on the Rim" is set to take place on Saturday, June 21 from 3-9 p.m. with top bluegrass talent from around the country.
Confirmed headliners will include Nashville's Ronnie Reno along with host Tim Watson along with Valley Road, Solid Blue and The Foggy Hollow Review.
Bring lawn chairs or blankets, family and friends to sit before the new Canyon Concert outdoor stage with ample parking, all adjacent to the beautiful Little River Canyon National Preserve.
Food vendors will be on hand along with on-site restrooms and the other comforts of home.
Tickets are $25; kids 6 and under get in free. 
Tickets and information are also available on location at the Little Canyon Center.
Don't miss this premier Canyon Concert supported by Jacksonville State University and the Northeast Alabama Entertainment Initiative.
Talent
Ronnie Reno and the Reno Tradition
To watch Ronnie Reno and the Reno Tradition is to witness living traditional and bluegrass history. Ronnie has had one of the most colorful, diverse and distinguished careers in the music industry. On the country side, he has toured as an opening act and band member for Merle Haggard, toured with Mel Tillis, done studio work for Johnny Cash, Conway Twitty and Willie Nelson, and written hits for both Haggard and Twitty. On the bluegrass side, he spent several years providing part of the trademark harmonies of the Osborne Brothers.

Bookending those personal milestones is a career based in family that has provided modern music with some of its most noteworthy moments. As a boy, Ronnie became part of bluegrass greatness when he picked up the mandolin and joined his father's band. His dad, Don Reno, happened to be one-half of Hall of Famers Reno and Smiley, and young Ronnie was part of many of the act's great recordings in the '50s and '60s. These days, Ronnie heads the Reno Tradition, an act that encapsulates some of the greatest sounds and moments of
traditional bluegrass music.

Ronnie was born into the world bluegrass, a uniquely American music spawned in the hills of Kentucky by Bill Monroe and a close band of like-minded musicians. His father replaced Earl Scruggs in Monroe's seminal band, the Bluegrass Boys, and popularized the three-fingered roll on the five-string banjo. Ronnie was just a boy when he picked up a mandolin and began playing with Reno and Smiley, often standing on a milk carton just to reach the microphone. He also sang and played mandolin and guitar for the Don Reno Band before
joining the Osbornes, with whom he worked for five years and five albums.
It was while the Osbornes were opening for Merle Haggard that Haggard took note of Ronnie's talents, asking Ronnie to open for him, and bringing him on as a full-time band member. Ronnie appeared on ten of Haggard's albums and harmonized with Merle and Bonnie Owens through the '70s and early '80s, a period that included classic hits like "If We Make It Through December," "Always Wanting You," "If We're Not Back In Love By Monday," and "Ramblin' Fever."
Ronnie recorded the first of his own albums for MCA in the '80s, releasing singles like "Homemade Love" and "The Letter," before teaming up with his father and younger brothers Dale and Don Wayne for a few years until his father's death in 1984. At that point, the Reno Brothers recorded six albums and toured together for 15 years, setting a new standard of excellence in the Reno Tradition and completing the circle that had been set in motion when he was a boy. The songs and arrangements of this period have been carried into the Reno Tradition tours
of today, which are nothing less than musical journeys through the music of Ronnie and his family members, as well as of the legends Ronnie has played and recorded with over the years.

Ronnie's life in music has seen his wide-ranging accomplishments earn him any number of honors. He created, produced and starred in his own cable TV program, "Reno's Old Time Music Festival," which could be seen in 28 million households and earned a nomination for the prestigious Cable Ace Award for Best Musical Series. Ronnie has received the Distinguished Achievement Award from the International Bluegrass Music Association, and has served on the board of directors of the International Bluegrass Music Museum in Owensboro, KY
and the Kentucky Center for Traditional Music at Morehead State University.
Never one to rest on his laurels, Ronnie continues to travel and take bluegrass music to fans everywhere. Few families can boast the kind of accomplishments to which Ronnie is heir, and few entertainers carry the tradition forward to audiences with a greater balance of integrity and entertainment value than Ronnie Reno and the Reno Tradition.
Tim Watson
Tim Watson had the # 1 show at the Opryland Show park for over 5 years and currently has the #1 show in Nashville aboard the General Jackson Showboat. The combination of his energetic trick fiddlin', crazy comedy, strong voice, audience participation, contagious smile and positive personality make this group a hit entertainment addition for any occasion. Tim has opened shows for many superstars like George Strait, Ricky Skaggs, George Jones, Lonestar, Keith Urban, Conway Twitty, Ronnie Milsap, The Judds, and K.T. Oslin just to name a few.
In addition to live performances Tim has been seen on TV. shows like the "Ralph Emery Show", "Crook & Chase", "Hee Haw", "Nashville Now", "CBS this Morning", " Video P.M.", "Good Morning America", "Today", "Prime Time Country" as well as Canadian TV's "Tommy Hunter Show" and TV. across the European Continent.
In 1985, Tim became a featured performer at the Opryland Show park, then in 1987 Tim went to work with the "First Lady of Country Music", Tammy Wynette where he was a featured vocalist and fiddler. Tim has also played and sang with Randy Travis, Jeannie C. Riley, Vern Gosdin, and with Willie Nelson on some live TV shows. Tim also works on many recording sessions in Nashville.
Valley Road
Valley Road began about 8 years ago with a banjo and guitar...literally. Johnny Goss (guitar) and Luke Ford (banjo) met up in their hometown of Alexandria, AL, struck up a friendship, and began jamming almost immediately. After a few line-up changes, Mike Smitherman stepped in and added another piece to the puzzle, wailing mercilessly (but beautifully) on his Old Wave F-Style mandolin and singing baritone. Eventually, he made the decision to move to the upright bass, and has been providing a steady powerful beat ever since. David Johnson came to the band with his high tenor voice and 1800s German-made fiddle, sawing a lonesome melody that has come to be the glue that holds this group of musical souls together. And finally came Josh palmer, our most recent addition, picking his Ratliff mandolin at amazing speeds and precision. Yep....this puzzle is complete and ready for framing!
Solid Blue
Solid Blue is a new band to the North Alabama Music scene playing traditional and contemporary Bluegrass music featuring tight harmonies and killer instrumentals. We're ALL ABOUT puttin' some SOLID BLUEgrass tunes out there for you…and maybe having a laugh or two along the way!
"Somewhere between the green rolling hills of Kentucky and the crazy purple skies of Arkansas a colorful bluegrass band emerged" -SOLID BLUE
The Foggy Hollow Review
The Foggy Hollow Review brings together a unique blend of musicians from several genres over the past years. All of the members hail from and live in the foothill area of the Appalachians. However, not only do they have a love for the traditional tunes that are for the home area, all have put together a vast blend of musical backgrounds.
On Guitar, Rick Goodwin, has played, rock, top 40, oldies, acoustic and bluegrass. Rick lends a great deal to the lead and harmony vocals as well as acoustic guitar playing second to none.
On Bass and vocals, Keith LaBenne brings his taste and talent for classical cello and viola to deliver an awesome hot lick and slap on the upright bass.
Lloyd Andrews, the Dobro (lap style resonator guitar) player of the group comes from a long background of electric bass in oldies, rock and even a bit of church music.
Glen Williams, after years of acoustic music on guitar and vocals, adds a bit of Mandolin to the sound. Using Bluegrass, Country and Contemporary licks to the song list.
The Band mixes traditional and modern bluegrass with old re-arranged country. Its all feel good, toe tapping, sing a long music.