JSU's Randy Owen Hits $500 Million Milestone in Country Cares for St. Jude Kids
06/17/2014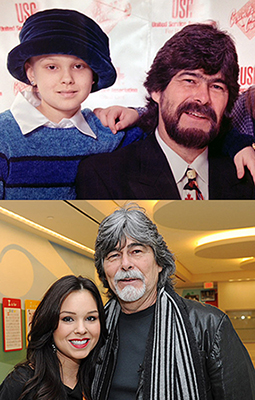 Country music legend, Jacksonville State University alum and trustee Randy Owen recently completed a significant milestone on a fundraising project begun twenty-five years ago.
In 1989, Owen had the opportunity to meet television icon and St. Jude Children's Research Hospital founder Danny Thomas. From then on, Owen has called upon the music world and radio stations to support St. Jude Children's Research Hospital, thus birthing the Country Cares for St. Jude Kids Program, which has since become one of America's most successful annual radio fundraising events.
In January 2014, Owen's fundraising endeavor celebrated its twenty-fifth anniversary and the momentous milestone of more than $500 million in donations.
Leading the way in how the world understands, treats and defeats childhood cancer and other deadly diseases, St. Jude Children's Research Hospital holds to the belief that all a family should worry about is the health of their child when fighting childhood cancer. Thus, families never receive a bill from St. Jude for treatment, travel, housing and food. The generous St. Jude donors make this possible. Since the majority of St. Jude Children's Research Hospital funding comes from individual contributors, St. Jude has the freedom to focus on what matters most – saving kids, regardless of their financial situation.
The hospital is also a leading center of research. Treatments invented at St. Jude have helped boost the overall childhood cancer survival rate from twenty percent when the hospital opened its doors in 1962 to more than eighty percent today. St. Jude also freely shares the breakthroughs it makes, and every child saved at St. Jude means doctors and scientists worldwide can use that knowledge to save thousands more children.
Today, country musicians such as Taylor Swift, Rascal Flatts, Keith Urban, Tim McGraw, Carrie Underwood, and many more can be found on the Country Cares website as some of the various artists or "clubs" under which Country Cares fans can make donations.
During the annual Country Cares seminar, artists and others from the music and radio industries from around the world come together to learn more about what St. Jude is and how they can help.
These artists also often visit the kids in the hospital and make lasting impressions as they did for Jessica Turri, who, at the age of nine, was diagnosed with leukemia and became a patient at St. Jude.  
"My whole world changed," explains Turri, a Memphis native who was told that she would need to undergo two and a half years of weekly chemotherapy. "Everything, all of a sudden, didn't matter. The only thing my family and I could think of was what the next two and a half years would look like and what life would be for us."
While in the hospital, Turri recalls meeting Martina McBride and talking with her for about thirty minutes.
"She was just so lovely," states Turri. "I was not a country music fan and my family didn't listen to that genre, so that night I told my dad that we needed to figure out who that lady was and go hear her music. So, we went to the public library…and checked out her current album at the time, which was Evolution. Her song 'Happy Girl' became my mantra to get me through therapy."
The next year, Turri had the opportunity to meet Keith Urban and even received a phone call from him on her birthday.
Turri explains, "Those are just big days for the kids because it gives you the strength to get through and gives you something positive to concentrate on. You have those things to kind of lean on and keep you going. So, Country Cares is a magical day at the hospital each year."
Turri is now twenty-five years old, cancer free and in remission.
She currently works in Nashville for American Lebanese Syrian Associated Charities (ALSAC), the fund-raising arm of St. Jude. She is on the radio development team, assisting St. Jude radio partners to continue to excel at their radiothon fundraisers.
She recalls meeting Randy Owen while a patient at St. Jude and was able to later reconnect with him as an employee at St. Jude last year.
"He [Owen] is the reason why Country Cares exists, so we owe it all to him," states Turri.
Jacksonville State University is very proud of the great legacy Owen has been blazing, not only at the university and in the music world but also in the lives of thousands of children through Country Cares for St. Jude Kids.
Learn More About Country Cares for St. Jude Kids
Photo: Before and After— Above, Jessica Turri, a young patient at St. Jude Children's Research Hospital, poses with country music superstar Randy Owen at the Country Cares Seminar in 1998. Below, 14 years later, Turri, now cancer free, in remission and a St. Jude employee, poses again with Owen at the Seminar in 2012. (photos by ALSAC/St. Jude)