JSU Drama Presents ''The Vanishing Point'' June 26-29
06/19/2014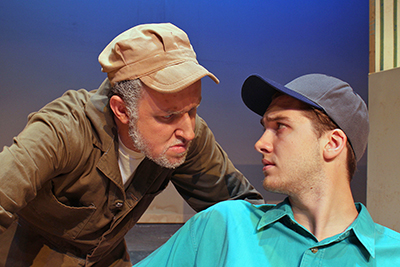 Jacksonville State University Drama will present 2013 Southern Playwrights Award winner "The Vanishing Point" by Nedra Pezold Roberts on June 26-29 at the Ernest Stone Performing Arts Center. 
Set in Pointe Critique, Louisiana, shortly before Hurricane Katrina, the play tells the story of Paul St. Pé, a proud and stubborn shrimp boat captain who is working in his own way to repair his relationship with both his grown sons. As one son comes home and another prepares to leave, the family wrestles with the ideas of home, family and love. "The Vanishing Point" was also a winner of the 2013 AACT NewPlayFest and a finalist in the 2011 National Playwrights Conference at the Eugene O'Neill Theater Center, a winner in Southern Appalachian Repertory Theatre's 2011 ScriptFest, a semifinalist (top 12) in the 2013 FutureFest at Dayton Playhouse, Dayton, OH, and a semifinalist (top 15) in the 2013 New Play Workshop at Raven Theatre, Chicago, IL.
Show dates are June 26 through June 28 at 7 p.m, and June 29 at 2 p.m.
Ticket prices are: $10.00 for Adults, $8.00 for JSU Faculty/Staff and Senior Citizens age 60 and over; $5.00 for Students and Military. Tickets may be purchase by phone at  256-782-5648 or at the Box Office in Stone Center. 
The cast for "The Vanishing Point" includes Mat Jarvis, Wesley Franks, Tanner Cain and Susan Grace Cattret.
On June 27 there will be a post show talkback with the playwright, Nedra Pezold Roberts and the director, Michael Boynton. There is be discussion over some of the origins of the play and how it developed, as well as the current production and how the script was brought to the stage. It promises to be a very interesting and informative evening. 
Photos: The cast of "The Vanishing Point." (Randy Blades/JSU Drama)