Alabama Power Visits Site of Future Robotics Education Center at JSU
06/24/2014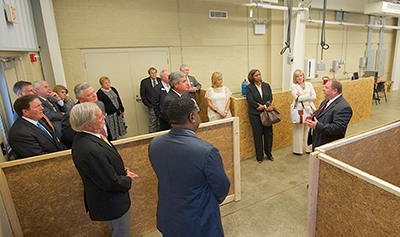 Officials with Alabama Power including new CEO and President Mark Crosswhite visited the Jacksonville State University campus on Monday, June 9 to take their first look at the space in Ayers Hall that will house the Alabama Power Robotics Education Center.
In January, Alabama Power Foundation announced its donation of $300,000 to furnish the lab, a large collaborative classroom in which students may learn applied engineering skills on the type of high-tech robotic equipment they will use in industry.
On hand to welcome Alabama Power to campus were JSU administrators and city officials, including Jacksonville Mayor Johnny Smith. Terry Marbut, head of JSU's department of technology and engineering, conducted the tour and shared the university's vision for the space.
JSU's technology and engineering department has three academic majors: applied manufacturing engineering, applied electronics engineering and occupational safety and health management. Students in JSU's applied engineering programs are very employable in the region. According to Marbut, the roughly 300 students stretched out across those programs already have an almost 100 percent employment rate.
Alabama Power Foundation's boost to the program will give regional industries access to an even more highly trained workforce.
"Our applied engineering programs focus on how we can take the latest technology that's available and use that technology to put our students to work," Marbut told the Alabama Power officials. "Area industries are very happy with JSU graduates and I think that's because we're able to give them the skilled workers they need to get the job done. 
"Alabama Power's investment with us is not only going to benefit students at JSU but it's going to benefit local manufacturers because we're going to be able to provide applied engineering research for them," he said.
Julia Segars, vice president of Alabama Power's Eastern Division, said the company wanted to do something that would come back to our state.
"This is very symbiotic for us, and it helps us develop the workforce for some of our biggest customers, like Honda," she said.
Dr. Bill Meehan, president of Jacksonville State University, called upon an oft-used quote to express his agreement.
"A rising tide floats all boats," he said.
Crosswhite, who was introduced to the JSU community during a reception following the tour in Stadium Tower, said Alabama Power Foundation is pleased to sponsor the laboratory.
"Future economic development and job creation in the state will depend upon a trained, motivated workforce," he said.  "Jacksonville State's applied engineering program will develop engineers with those practical, real-world skills that industry needs.  We are honored to be part of this program."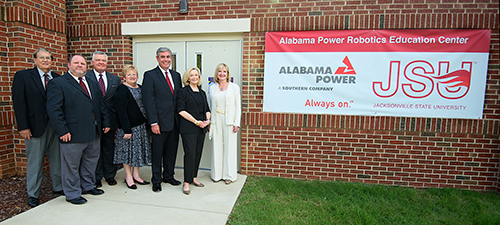 Above, from left: Jacksonville Mayor Johnny Smith, JSU Technology and Engineering Department Head Terry Marbut, JSU President Dr. Bill Meehan, JSU Provost/VP Academic and Student Affairs Dr. Rebecca Turner, Alabama Power CEO and President Mark Crosswhite, Patricia King and Alabama Power Eastern Division VP Julia Segars pause for a photo before entering the future site of the Alabama Power Robotics Education Center.  Top photo: Terry Marbut, right, takes Alabama Power, JSU and city officials on a tour of the future robotics education center. (Matt Reynolds/JSU)