Teacher Environmental Education Workshop- Beyond My Pond
05/02/2014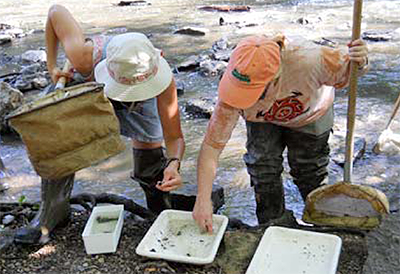 JSU Field Schools, Environmental Education Association of Alabama (EEAA) and the Choccolocco Creek Watershed Alliance will present a teacher workshop, "Beyond My Pond: What's So Important About My Watershed?" on May 31, 2014 at the Cleburne County Mountain Center in Heflin, Ala.
This fun educational teacher/educator workshop will focus on the sustainability of watersheds in Alabama. Lead instructor is Alabama Water Watch globetrotter Dr. Bill Deutsch.
The workshop will take place from 8:30 a.m. - 4:30 p.m., with lunch provided by EEAA. 
JSU will provide a shutle van to the USFS Talladegal National Forest Shoal Creek for hands-on field work. Participants should prepare to get wet!
The cost is $15 per person (includes eight hours of STI-PD certificate). Participation is limited to 20 so please register early!
To register contact Renee Morrison at rmorrison@jsu.edu or call 256-782-8010.