JSU Drama Presents 'Fool for Love' May 15-18
05/02/2014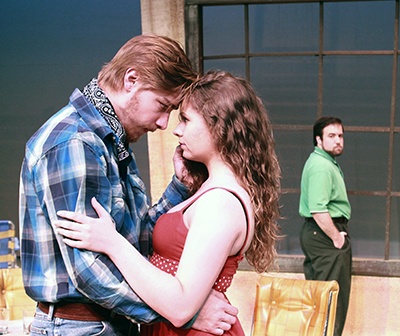 Jacksonville State University's Drama Department will present Sam Shepard's "Fool for Love" on May 15-18 at the Ernest Stone Performing Arts Center on campus. Directed by Michael Boynton, this production stars JSU students Joshua Cody Hunt, Carrie Shaw, Cody Hayes and Maurice Winsell.
Winner of the Obie Award for Best New American Play (1984), Sam Shepard's powerful modern drama explores the destructive relationship of childhood friends turned lovers. May is hiding out in a motel in the Mojave Desert and hoping to start a new life when Eddie arrives to try and win her back. The past haunts them as the desire of one generation wreaks havoc in the next through dark secrets, jealousy and betrayal in this darkly funny drama. Shepard's play explores the destructive nature of love and its power to distort memory and truth.
This play is recommended for audiences 16 and older as it contains mature themes and adult language. 

Performances will be Thursday-Saturday, May 15-17 at 7 p.m. and Sunday at 2 p.m. Tickets are $10 for adults, $8 for senior citizens and JSU personnel, and $5 for students and military. 
To order tickets, please call the JSU Drama Box Office at 256-782-5648.