2014-2015 JSU Ambassadors Announced
05/13/2014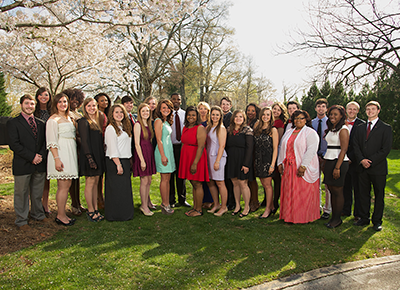 Jacksonville State University's new 2014-2015 Ambassadors were recently selected. JSU Ambassadors are chosen from among the university's highest-performing students to serve as official representatives of JSU. Ambassadors are seen at presidential functions, Board of Trustees meetings and Preview Days. They also travel with the university's admissions counselors to area high schools to provide a first-hand student perspective on life at JSU.

JSU Ambassadors, which began as a group of 15 students more than a decade ago, is now 26 students strong. This year's group is led by Ambassador Administrators Kayla Haynes and Keri Jo Shaw.
Ms. Haynes, a senior with a double major in chemistry and biology pre-med, is the daughter of Nelson and Gina Haynes. She attended Heritage High School in Ringgold.  She is involved in many activities on campus and was the 2013-2014 homecoming queen. She is president of Beta Beta Beta biology society and also a member of ACS. She is the head of uniforms for the Marching Southerners and has loved her time with the Southerners.  She is a member of Phi Eta Sigma and Omicron Delta Kappa.
Ms. Shaw is the daughter of Kerry and Tammy Shaw. She is from Harpersville, Alabama and attended Vincent High School. She is a junior with a major in early childhood/ elementary education.  She was involved in Freshman Forum and was a Freshman Forum mentor.  She is a member of Phi Eta Sigma.
Congratulations to all our new JSU Ambassadors:
Emilee Cabaniss, Greenville, S.C.; Marilyn Cheney, Oneonta, Ala.; Alex Christensen, Marietta, Ga.; Lora Clayburn, Southside, Ala.; Kiunte Dowdell, Opelika, Ala.; Diamond Ford, Birmingham, Ala.; Kaleigh Garner, Gadsden, Ala.; Kendal Garrett, Piedmont, Ala.; Caelan Goss, Piedmont, Ala.; Sadie Gregory, Cullman, Ala.; Meagan Harris, Alabaster, AL; Kayla Haynes, Ringgold, Ga.;
Dylan Jones, Jacksonville, Ala.; Dylan Kelley, Boaz, Ala.; Tatiana Pendleton, Jacksonville, Ala.; Mallorie Phillips, Oneonta, Ala.; Kenisha Reeves, Jonesboro, Ga.; Hailey Scott, Boaz, Ala.; Jesslan Sharp, Sylvania, Ala.; Keri Jo Shaw, Harpersville, Ala.; Lacey Shaw, Cave Spring, Ga.; Scarlett Shine, Phenix City, Ala.; Phillip Treutel, Oneonta, Ala.; Hunter Wallace, Gadsden, Ala.; Erin Wallace, Sawyerville, Ala.; Blake Wilson, Remlap, Ala.
Photo: 2014-2015 JSU Ambassadors (Matt Reynolds/JSU)