JSUDrama and CharACTers Partner to Perform The Complete Works of William Shakespeare
04/08/2014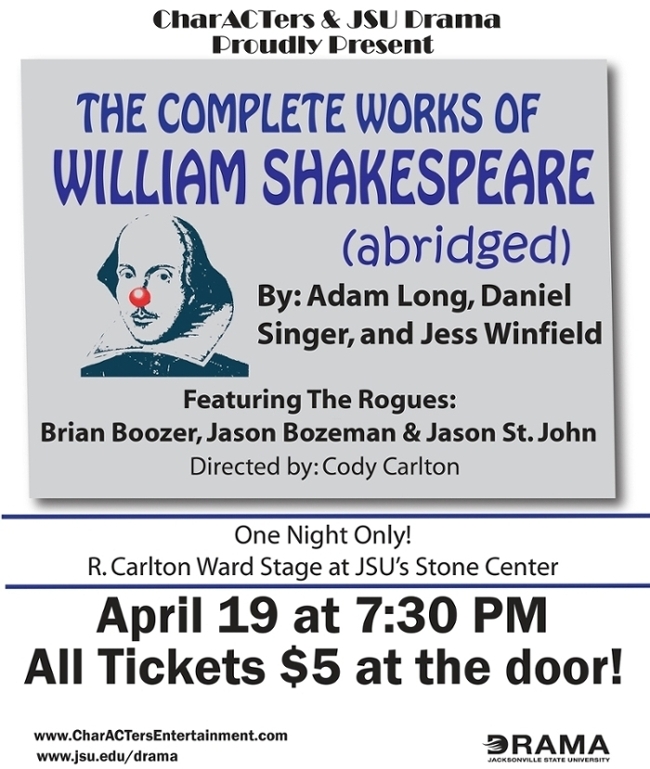 JSUDrama is proud to be partnering with CharACTers Entertainment on April 19 to bring you a special, one night performance of The Complete Works of William Shakespeare (abridged) by Adam Long, Daniel Singer, and Jess Winfield. The performance will start at 7:30 p.m. in the Stone Center's R. Carlton Ward Stage with an admissions fee of $5.
Under the direction of Cody Carlton, CharACTers's artistic director, will be a cast of three JSU alumni: Brian Boozer, Jason Bozeman and Jason St. John. 
The cast of three will attempt to cover all 37 of Shakespeare's plays in less than 2 hours!
Randy Blades, the JSU Drama Department Chair, playfully says, "Even though all three of the cast members graduated from JSU, we simply cannot be held responsible for any antics, mayhem, or pandemonium they may cause."  
The creators say, "Warning! This show is a high-speed roller-coaster type condensation of all of Shakespeare's plays, and is not recommended for people with heart ailments, bladder problems, inner-ear disorders, outer-ear disorders, Shakespearean scholars, degrees in Elizabethan history and/or people inclined to motion sickness." 
For more information, please contact Randy Blades, ext. 5447