Oxford High School Choral Ensemble to Join JSU A Cappella Choir and Chamber Singers for March 16 Concert
03/11/2014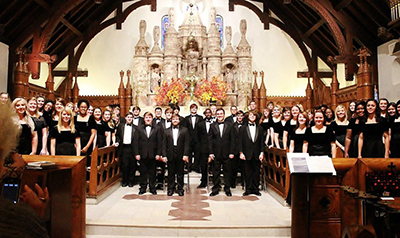 On Sunday, March 16 at 3 p.m., the Jacksonville State University A Cappella Choir and Chamber Singers, under the direction JSU Director of Choral Activities Dr. Patricia Corbin, will perform their spring concert at the First Baptist Church in Oxford. Featured guest choir on the concert will be the Oxford High School Choral Ensemble, under the direction of Ms Jane Lewis.
"We are so looking forward to sharing the stage with the Oxford High Choral Ensemble," says Dr. Corbin.  "Although this combined choral event had been planned since the early fall, the bad weather this winter which caused us to miss so much school really put our plans in jeopardy. I am happy that Oxford will still be joining us."
March is "Music In Our Schools" month and this event celebrates the hard work that music teachers do in our community. "It will be fun for my college students to sing with these high school singers," says Dr. Corbin. "Of course, we hope that this experience will inspire some of the Oxford students to come to JSU and get involved with our choral activities."

This will be the first time that JSU choirs will perform at this particular church. Justin Holland, Worship and Missions Pastor of Oxford First Baptist and former member of JSU A Cappella Choir, invited the choirs to come perform at the church. "We are grateful for the invitation and look forward to experiencing the atmosphere of this church," says Dr. Corbin.

Oxford First Baptist Church is located at 95 East Oak Street in Oxford. The concert is free and open to the public. For further information, please contact JSU Choral Activities, (256) 782-5544 or Dr. Corbin, pcorbin@jsu.edu
Photo: JSU's A Cappella Choir at the Church of St. Michael and All Angels in Anniston (courtesy)