March 17 Foothills Piano Festival to Feature ETA-3 Performing Debussy, Mozart and Bartok
03/10/2014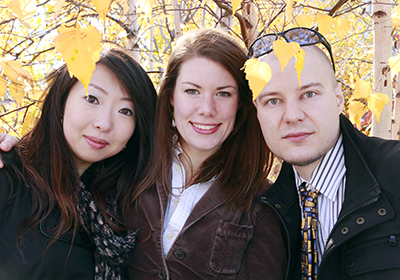 The annual Foothills Piano Festival welcomes ETA-3 at JSU's Mason Hall Performance Center on March 17 at 7:30 p.m.  The concert is free and open to the public.  

Named after a luminous and spectacular star-forming Nebula in our galaxy, ETA3 is a woodwind trio comprising award winning musicians, American Flutist Chelsea Knox, Japanese Pianist Tomoko Nakayama and Russian Clarinetist Alexey Gorokholinsky. 

Formed at The Juilliard School during spring of 2006, ETA3 has been mesmerizing audiences by communicating the intellectual and emotional elements of life by broadening their perspective through a varied range of repertoire. The Trio was recognized by Juilliard as one of three prominent emerging chamber music groups of 2006 leading to their Alice Tully Hall debut. 

The performers will present works expressly written for this ensemble, plus pieces they've transcribed for their group.  Music by Debussy, Mozart and Bartok will be enjoyed.
Photo: ETA-3- Tomoko Nakayama, Chelsea Knox and Alexey Gorokholinsky. (courtesy)