Internationally Known Composer John Mackey to Bring "Frozen Cathedral" to JSU
03/11/2014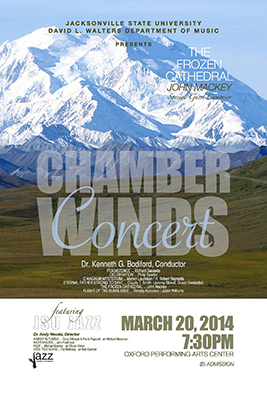 The Koyukon call Alaska's Mount McKinley "Denali," meaning "the great one." To internationally known composer John Mackey, the tallest mountain on land in the world is the inspiration for "The Frozen Cathedral," his composition that focuses on the transcendental and spiritual allure of this magnificent peak.
Mackey will be on the Jacksonville State University campus on March 18-20, where he will work with all three concert band ensembles throughout the week, as well as hold master classes with music students and individual lessons with music composition students.
Then, on Thursday evening, March 20, Mackey, along with the JSU Chamber Winds will perform "The Frozen Cathedral" as part of the JSU Chamber Winds/JSU Jazz 1 concert. The concert begins at 7:30 p.m. at the Oxford Performing Arts Center and the public is welcome to attend. Admission is $5.
Also on the Chamber Winds repertoire for the concert will be:
"Persistence" (Richard Sausedo)
"Celebration" (Phillip Sparke)
"O Magnum Mysterium" (Morten Lauridsen/H. Robert Reynolds)
"Eternal Father Strong to Save" (Claude T. Smith) with Jeremy Stovall, Guest Conductor
"Flight of the Bumblebee" (Rimsky-Korsakov/Justin Williams)
The JSU Jazz I selections for the concert will be:
"A Night in Tunisia" (Dizzy Gillespie & Frank Paparelli, arranged by Michael Mossman)
"Nightshades" (John Fdchock)
"Peep" (Michael Brecker, arranged by Chuck Owen)
"Have You Heard" (Pat Metheny, arranged by Bob Curnow)
Dr. Kenneth G. Bodiford is director/conductor for JSU Chamber Winds. Dr. Andy Nevala is director/conductor of JSU Jazz.