Town and Gown - Miss Jayme Wagner Is Crowned Miss JSU 2014
02/17/2014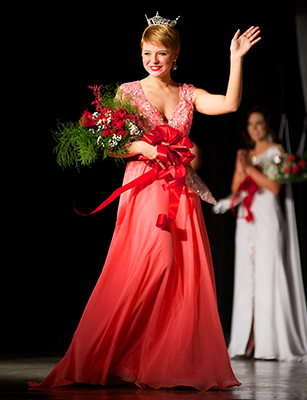 By Heather Greene
On January 17, 2014, Miss Jayme Rheann Wagner, 20, was crowned Miss Jacksonville State University 2014.
Wagner is a native of Oxford, and the daughter of Kim Wagner and Pat Cleveland. She is in her junior year at JSU and is majoring in family and consumer sciences with a concentration in merchandising. While she enjoys style and is considering the possibility of using her degree to work as a buyer for a company or store, Wagner confesses she "really just wants to be a flight attendant."
Although she is not new to pageants, having competed while a student at Oxford High School and in the Miss JSU pageant last year, Wagner admits that she was shocked when she was crowned Miss JSU.
"I didn't know what to think," explains Wagner. "It's just not something you expect. You just hope for the best."
On her experience competing in the Miss JSU pageant, Wagner states, "It's a lot of fun for sure…it's not just about beauty, but it's about who you are as a person."
For her talent, Wagner, who has done ballet for about 15 years, did a pointe routine to Christina Aguilera's "Candyman," a fast-paced selection which she explains was a little more "unusual" than what she normally does, but "something different" and fun to perform.
Every contestant in Miss American Organization pageants selects a platform. Fighting childhood obesity will be Wagner's crusade during her 2014 reign.
"Ever since I was little, I've been involved and have done extra-curricular activities," says Wagner. "My mom made me lead a healthy life-style and taught me how to be comfortable in my own skin and make healthy choices. I think every kid deserves that…I want every child to feel comfortable in their own skin and know that it's not just how much you weigh or what you look like on the outside, it's how you feel in your own skin and that you know you are healthy."
To support her platform, Wagner plans to enthusiastically raise funds to revamp a park in Oxford, which would be utilized by children in the surrounding area.
This is only one of many reasons she looks forward to her reign as Miss JSU. "It's just an exciting experience as a whole," she says.
While the college student life rarely allows for an excess of free time, between class, work and her Miss JSU activities, Wagner enjoys reading, especially historical fiction and biographies. Further interests of Wagner include listening to oldies music and collecting vintage and Marilyn Monroe items.
Wagner serves as a JSU GO! Leader, which she states has been her favorite experience at JSU. "You get to usher in the freshmen, show them your love for JSU and instill your love for JSU in them. That's just really neat; to see that you made a difference. You made them love your university like you love your university. It's just one day, but you can do a lot in one day to show them the pride you have in JSU."
In addition to her work as a JSU GO! Leader, Wagner is an SGA Senator, member of Zeta Tau Alpha and the secretary of the College Democrats.
Wagner will be competing in the Miss Alabama pageant in June and is looking forward to the experience, "I'm excited to meet everyone because I know there will be girls just like me for whom this will be their first time ever going…it's just going to be a new experience. Nervous, but exciting."
While many would probably consider the private interview with the judges to be their least favorite part of a pageant, Wagner admits to actually looking forward to her interview time at Miss Alabama, as it allows the judges an opportunity to see a contestant's personality, which is then magnified during the on-stage performances.
Jacksonville State University would like to wish Jayme Wagner an amazing year as Miss JSU 2014 and the best of luck at Miss Alabama!
For more information about the Miss JSU pageant, visit www.jsu.edu.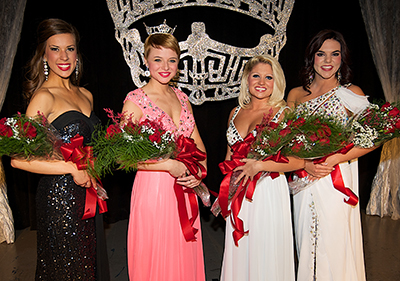 This article originally appeared in the "Town and Gown" of the Jacksonville News. 
Photo Top: Miss JSU 2014 Jayme Wagner (Matt Reynolds/JSU)
Photo Bottom: Miss JSU 2014 Court (from right to left) 2014 Second Runner-Up, Susan Grace Catrett; 2014 Miss JSU, Jayme Wagner; 2014 Talent competition winner and First Runner-up, Kacy Laine Jacobs; 2014 Swimsuit competition winner, Katy Kon (Matt Reynolds/JSU)