"Dolls, Dreams and Divinations" Opens Thursday, February 6 at Hammond Hall
02/05/2014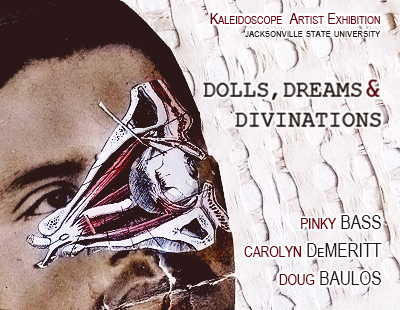 "History repeats itself, but the special call of art is to record that which has passed away and is never reproduced.
It is utterly gone out of the world as the song of a destroyed wild bird."  ----Joseph Conrad


The JSU Department of Art is proud to present in association with Kaleidoscope: The Festival of the Arts:

"Dolls, Dreams, & Divinations"
An Exhibition of works by Pinky Bass, Carolyn DeMeritt, and Doug Baulos

Exhibition: February 6 - 28, 2014
Opening reception: Thursday, February 6, 2014, 5 - 7 PM
Gallery Talk: 5:30 PM

Doug, Pinky, and Carolyn have all spent time in Mexico and their work has been inspired by the mysticism and
lore of Mexican mythology. Just as all myths and legends help explain a culture's mysteries and phenomena,
these artists use this visual language to explore their personal experiences with natural processes in life.
Free admission.