It's Never Too Late: ROTC Could Be Right For You
11/05/2013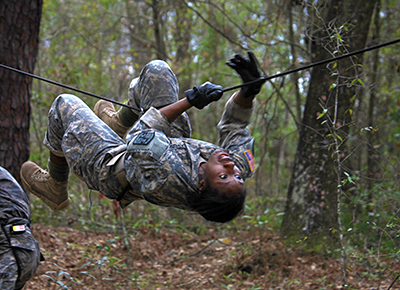 Did you know that you could join the Reserve Officer Training Corps (ROTC) through the age of thirty-two? Deciding on a career in the Army isn't necessarily something that needs to be figured out by the age of eighteen – or even thirty. There are options available for students at any education level, even graduate students!
It's common to think you have to have it all figured out before or during the first year of college, but more and more students are changing direction after being exposed to new classes and experiences. The Jacksonville State University ROTC program offers elective courses that interested students can take, without obligation, to help determine whether the Army is a good fit for them. ROTC cadets major in a variety of disciplines, which is a plus for the Army in developing a diverse team of leaders.
For Cadet Evan Prince, a senior exercise science major and 2009 White Plains High School graduate, the Army was a clear choice for his future plans. He entered basic training at Fort Benning, Georgia, right out of high school, quickly followed by advanced individual training as a medic. He began his freshman year at JSU in spring 2011, and after taking an elective class to see what the ROTC had to offer, decided to join the program. He credits the ROTC in providing him with additional training while earning his college degree. He hopes to be commissioned with an infantry assignment upon graduation.
Cadet Sarah Pugh, also a senior, says, "I've wanted to be in uniform since I was a little girl. Being part of the ROTC is a great motivator to not only finish school, but to excel at my studies in the process. I've also discovered the camaraderie to be an unexpected benefit during the process. My end goal is to be assigned to military intelligence." Cadet Pugh is a 2008 graduate of Alexandria High School and entered the ROTC program as a senior (it's never too late!). She'll graduate in December with a degree in mathematics.
Majoring in business administration, Cadet Desmond Clay of Decatur, Ala., explains, "Money was the initial motivator for me to join ROTC, but once I started experiencing the classes and developing leadership skills, I knew ROTC was the perfect place for me." Cadet Clay entered the ROTC during his sophomore year and is now a senior. He is a graduate of West Morgan High School. His goal is to receive a commission in military intelligence.
Leading the JSU ROTC program is Maj. Paul Thiessen, a JSU ROTC alumnus. He graduated in 2002 with a major in criminal justice and currently serves as professor of military science. Maj. Thiessen describes his journey, "It's highly unusual in the Army to be assigned back to the place you attended college. Returning to Jacksonville State ROTC, to serve as the professor of military science, is an amazing privilege and honor. This is a special place with a great reputation for developing superior Army officers and America's future leaders. For me, this is a huge opportunity to give back to the Military Science Department, Jacksonville State University and the Jacksonville community."  
JSU ROTC currently has 125 cadets in the program, including twenty in Talladega. There are scholarships available ranging from one to four years but most cadets are part of the Simultaneous Membership Program (SMP). Participants of the SMP are members of ROTC while also serving in either the Army National Guard or the U.S. Army Reserve. Cadets in the SMP have an earning potential of up to $25,077.64 and are considered non-deployable while enrolled in the ROTC.
ROTC is first and foremost a leadership program. Cadets develop qualities such as confidence and innovation while developing skills such as excellent oral and written communication, getting results and leading others. Maj. Thiessen says there is a balance to developing leaders while teaching them to develop others,  "The ROTC builds leaders, but part of being a leader is building a team."
The curious, the serious and the not-quite-sure individuals are encouraged to stop by and visit the ROTC team at Rowe Hall. They'll be happy to give a tour and answer any questions.
For more information about the JSU ROTC program contact Maj. Paul Thiessen at pthiessen@jsu.edu.
Photo: Junior social work major Cadet Dominique Stewart of Fort Belvoir, Va., crosses a one rope bridge as part of a training exercise for the Ranger Challenge team. Courtesy of JSU ROTC.