November 2 Canyon Fest to Feature Family Fun, First Concert on New Outdoor Stage
10/29/2013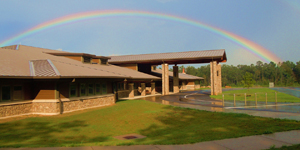 Jacksonville State University's Little River Canyon Center will host its fifth annual Canyon Fest on Saturday, November 2, 2013. Designed to encourage an appreciation for nature, science, and local culture the JSU Canyon Center has organized a day filled with live music, food, demonstrations, activities, art sales, vendors, and a special rock n' roll performance by the US Army Materiel Command Band on the brand new outdoor stage. People are encouraged to bring their own lawn chairs and blankets to enjoy this premier show. The festival runs from 10 a.m. - 4 p.m. and is free. 
"Come out and explore our unique and talented artists who demonstrate and sell arts and crafts at this highly anticipated annual event," says Anna Palmer, Little River Canyon Center Sales and Services Coordinator. She emphasized, "There will be something for everyone!"
Other special demonstrations will feature quilting and blacksmithing, the Canyon Center's HD film experience: Little River Canyon: CENTER of the Universe, outdoor rock climbing demonstrations, National Park Service exhibits, and much more.
"We anticipate a big turnout at Canyon Fest this year," says Renee Morrison, JSU Field School Assistant Director.  Morrison adds, "Where else can a family go to explore a canyon, learn about nature, view spectacular autumn color, hear award-winning musicians, eat great food, and watch artists weave, paint, whittle and forge?"
Although the facility is open daily from 10:00 to 4:00, Canyon Fest provides an extra special opportunity to experience the Little River Canyon Center, its new exhibits, trails and people on a beautiful autumn day. 
Canyon Fest Schedule of Events
10 a.m. -- Canyon Fest begins! Activities including arts & crafts, demonstrations, food vendors, exhibits and activities for children will continue throughout the day until 4:00 pm with the following scheduled events
10:30 a.m. -- Trail of Tears Program, Park Ranger Larry Beane  
11 a.m. -- Storytelling by Greg Starnes, Civil War Historian       
Noon -- Fiddler, Matt Downer
12:30 p.m. -- Native American Tools & Weapons, Park Ranger Larry Beane
1 p.m. --  Guitarist, Curtis Strange
3 p.m. -- US ARMY MATERIEL COMMAND BAND ROCK N' ROLL CONCERT