JSU scholarship season opens October 1
10/01/2013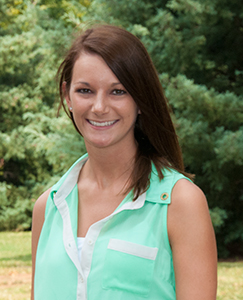 By Ashley Siskey, Graduate Assistant in JSU's Public Relations Office
Fall is full of wonderful experiences. For some, it's the start of football season, cooler weather, falling leaves and pumpkin spice lattes. For others, it's the premier of TV favorites like The Walking Dead and Big Bang Theory.  For many, the constant frenzy of back-to-back holidays, cooking and decorating is a fall highlight. It's also the time of year high school seniors and returning students need to think about how to pay tuition for the following academic year. Can it get any busier? 
This year, JSU senior Cassie McGowan breathes a little easier after being named the first recipient of the newly endowed Howell Scholarship. She is a 2010 graduate of Jacksonville High School and is scheduled to be a 2014 accounting graduate. "The Howell scholarship is a huge help. I'm able to pay for books on top of my tuition. Accounting books are expensive! The average book costs $175. There's so much less stress on me this year. I'm able to work less, so I can focus on school. I'm extremely grateful to the Howells for this opportunity," says Ms. McGowan. 
The Howell scholarship is endowed through the JSU Foundation by Ken and Jenny Howell of Anniston and awards $12,500 per academic year to a Calhoun County undergraduate accounting major, with preference given to students participating in the JSU ROTC program. Mr. Howell, a 1972 graduate of JSU, participated in the advanced ROTC program and received his degree in accounting. He sees the scholarship as a way to give back and help students struggle less financially during and after college. 
A list of available scholarships through JSU, like the Howell scholarship, can be found on the JSU website (www.jsu.edu) under the Student Financial Services' page. There are scholarships out there for a variety of students, so it pays to do some research. Applications for scholarships will be accepted beginning Oct. 1, 2013 – Mar. 1, 2014. More information regarding the specific processes for application, review, award and time frame can be found on the JSU website (be sure to check out the FAQ & Hints section) or by contacting the financial aid office at 256-782-5006. 
For high school seniors and their parents, applying for scholarships on top of submitting general applications can be overwhelming. Be sure to utilize the experts at your schools of choice – often times there are checklists and resources to help navigate the process. JSU's Student Financial Services has a checklist for entrance requirements and the application process. 
In addition to resources at the post-secondary level, many high school counselors have even more detailed step-by-step instructions to aid students and parents. Leta McGehee, a 1977 JSU alumna, works as a counselor at Clay-Chalkville High School. She provides her students with a college booklet that includes a month-by-month checklist. "With life busier than ever, students and parents can get off schedule and not realize that they are way behind in the process, have not completed requirements for admission such as taking the ACT or SAT, or they have missed critical deadlines for scholarships and financial aid. It's a scary process, but school counselors are there and ready to help," says Ms. McGehee. 
Ms. McGehee recommends students take the ACT or SAT in their junior year of high school. Students need time to improve on test scores, if needed – especially since admissions and scholarships get more competitive with each passing year. During convocation in August, JSU President Dr. Bill Meehan remarked, "the entering freshman class ACT average composite score has risen from 19 to more than 22 over the last three years." 
Ultimately, it is the responsibility of the student to work on meeting entrance and scholarship requirements during the secondary education years. It is also the student's responsibility to keep track of his GPA and key test scores to know his eligibility, brag activities (service, sports, honors, etc.) and application deadlines. Ms. McGehee urges her students to write college essays and get letters of recommendation early. The more proactive a student and her support system are on the front end, the smoother the process will be for all parties involved. 
Bottom line: any student, whether entering college freshman or returning, needs to give the application process time, utilize all available resources and take initiative in the process well before deadlines. So, go ahead, check out the available scholarships through JSU, and be ready to start applying come Oct. 1.  
Photo: Senior accounting major Cassie McGowan is the first recipient of the Howell scholarship.