Complete Schedule- 2013 JSU Homecoming, October 7-12
10/04/2013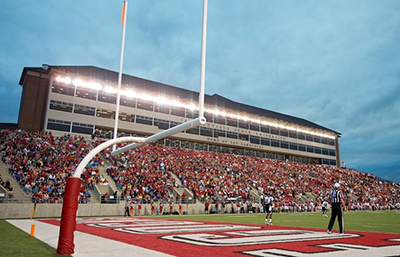 Jacksonville State University welcomes alumni, students, families and friends to the "Gem of the Hills" during Homecoming Week, October 7-12, 2013.
The Gamecocks will play the Tennessee State Tigers for this year's homecoming and the theme for Homecoming 2013 will be "Tank the Tigers!" The Student Government Association encourages everyone to wear red, white and blue along with their JSU apparel to help the campus incorporate patriotism and support for the military into the 2013 Homecoming.
Guests attending Homecoming are invited to bring their tailgate parties to the green space in front of Kennamer Hall and make a daylong visit to campus. Also important to the homecoming experience this year— the annual homecoming parade at 11 a.m. and the Gamecock Walk, which will begin at 12:45 p.m. in front of Stadium Tower. Plan to greet the team and show your support as they make their way from Stadium Tower past Dillon Field and into the Field House. Kickoff for the game will be 3 p.m. Presentation of the homecoming court, recognition of the Alumni of the Year and performances by the Marching Southerners and Ballerinas will highlight the halftime show.
Tickets to the game will be available at the Stadium 1 ½ hours before kickoff and can also be bought in advance at the campus bookstore and the Jacksonville Bookstore on Mountain Street. Fans can also avoid the lines at the ticket booths by purchasing in advance on www.jsugamecocksports.com and printing their tickets at home. Ticket prices start at $15 for general admission.
Don't forget to stop by the bookstore while on campus and purchase a commemorative homecoming t-shirt. 
We look forward to having you at JSU!
Below is a complete list of homecoming activities.
Thursday, October 3 

Homecoming Election (Top 5 for Queen and King) Online voting, 12:01 a.m. - 5 p.m. 

Tuesday, October 8 

J-Day, TMB Lawn, 11 a.m. - 4 p.m. 

Thursday, October 10 

Homecoming Queen/King Elections, Online voting, 12:01 a.m. - 5 p.m.
Homecoming Pep Rally, Queen/King Announcement, Burgess-Snow Field at JSU Stadium, 8 p.m. 
Calhoun County Alumni Wine Tasting, Coxwell Room, JSU Field House, 6 p.m.

Friday, October 11 

'55 Football Team Luncheon, Houston Cole Library, 11:30 a.m.
Class of 1963 50th Year Class Reunion, 11th floor Houston Cole Library, noon
Departmental Door Judging, 3 p.m.
Sixties Group Alumni Dinner, McClellan Medical Mall Business Center, 5 p.m.
ROTC Annual Alumni Banquet, 11th floor Houston Cole Library, 6 p.m.
'55 Football Team Reception, Alumni House, 6:30 p.m.
JSU Volleyball vs. Belmont, 7 p.m.
NPHC Step Show, Leone Cole Auditorium, 7 p.m., $10 admission 

Saturday, October 12 

HOMECOMING DAY! 

SGA Tailgate, Dillon Field, 8 a.m. - 3 p.m.
'55 Football Team Reunion Breakfast, Alumni House, 8:30 a.m.
Alumni House Opens to all Alumni, Family and Friends, 9 a.m.
President's Open House, 9:30-10:30 a.m.
Family Day, Bongo Ball Mania, TMB Lawn, 9 a.m. - 2 p.m.
SGA Kids Zone, Face Painting, TMB Lawn, 10 a.m. - 1 p.m.
Homecoming Parade, 11 a.m.
Departmental Open Houses, 11:30 – 2:30 p.m.
Hispanic Health Fair, 246 Wallace Hall, College of Nursing, 11:30 - 1:30 p.m.
CCBA Open House, Merrill Building Atrium, noon
Alumni Association Meeting (open to all alumni), Theron Montgomery Building Auditorium, noon
Chasing Chad Concert, Dillon Field, 12:30 p.m.
Gamecock Walk, Stadium Tower/Field House, 12:45 p.m.
JSU vs. Tennessee State Homecoming Game, Burgess-Snow Field, 3 p.m.
JSU Volleyball vs. Tennessee State, Pete Mathews Coliseum, 7 p.m.
Alumni Jazz Mixer, Hampton Inn, 7 p.m.
Calhoun County Alumni Postgame, Heroes, 7 p.m.

 

Sunday, October 13

JSU Soccer vs. Tennessee Tech, 1 p.m.
United Nations Day Tea, International House, 2 p.m.