Southern Playwright Contest Winner "A Tennessee Walk" Opens June 20 at Stone Center
06/13/2013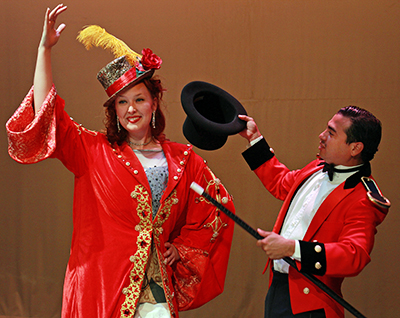 There's a skeleton in a train yard in east Tennessee.
In September 1916, Erwin, TN became the center of media attention as they executed a circus elephant named Mary for the murder of one of her trainers.  2,500 people turned out to watch them hang Mary from a derrick car.  Bobbi Coleman was there and she has a story to tell that has never been told.  Freelance journalist Wade Ferguson is determined to find out what really happened on that fateful fall day.
JSU Drama is proud to present the play about the incident, "A Tennessee Walk" by Robb Winn Anderson, the winner of the 2012 Southern Playwright's Contest. Directed by Eric Traynor, "A Tennessee Walk" is hosted by the English and Drama departments and sponsored by the College of Arts and Sciences.  
"A Tennessee Walk" will be presented Jun 20-23 on the R. Carlton Ward Stage at the Ernest Stone Performing Arts Center on the Jacksonville State University campus.
Showtimes are 7 p.m. June 20-22 and 2 p.m. June 23. 
Tickets are $10 (Adult), $8 (Senior Citizen/JSU Personnel), or $5 (Student/Child/Military). Tickets may be purchased by calling the JSU Drama box office, 256-782-5648.
Please note that this play may not be appropriate for those under 13 because of mature themes. 
"A Tennessee Walk" was also a Finalist for the 2009 Yale Drama Series, David C. Horn Prize and the co-winner of the 2009 Florida Long Johns Competition for StageWorks Theatre. It was a Finalist for the 2009 hotINK International Play Reading festival and the 2005 Theatre Publicus Award for Dramatic Literature. It was also selected as a Semi-Finalist for the 2006 O'Neill National Playwrights Conference and was part of the inaugural Edward Albee Great Plains Theatre Conference in 2006.
Photo: Rae Cauthens and Maurice Winsell in "A Tennessee Walk." (JSU Drama photo)