Fulbright Scholar, Dr. Aaron Garrett, on Latvia and mousetraps
06/12/2013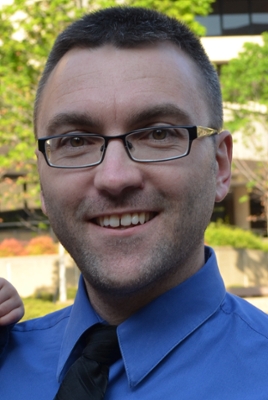 A Fulbright scholarship is a big deal. The Fulbright program, originating in the United States, has been around since 1946 and currently has 155 countries participating. Since its inception, over 300,000 scholarship recipients (students and scholars worldwide) have been awarded the opportunity to partner internationally to promote education, research, teach, find solutions to common issues and share ideas. Each year, 1,200 U.S. scholars are chosen, and this year, JSU is honored to have one of our very own selected, Dr. Aaron Garrett, assistant professor in MCIS (Mathematical, Computing, & Information Sciences). 
Dr. Garrett's award allows him the opportunity to teach at Ventspils University College in Ventspils, Latvia, a coastal city on the Baltic Sea. For those needing a little geographic reference, Latvia is located in northern Europe and shares an eastern border with Russia. Directly to Latvia's west, across the Baltic Sea, is Sweden. From August of this year through January of 2014, Dr. Garrett will teach courses on computer data structures and artificial intelligence (AI) at Ventspils, known for its specialization in computer science and digital communication. 
Dr. Garrett actually specializes in evolutionary computation (EC), which is a subfield of artificial intelligence. Dr. Garrett describes it saying, "Evolutionary computation is a set of approaches that solve difficult optimization problems using inspiration from biological evolution. Optimization problems focus on making things 'better' by some measure of that word." 
In layman's terms, Dr. Garrett uses the analogy of building a better mousetrap. In evolutionary computation, the parts of the mousetrap are analyzed (such as the hammer, tension in the spring, etc.) and assigned values based on performance (what is "better") in hopes of building the best mousetrap possible. The objective is to figure out the best mousetrap that can be realized from the value of those parts, with the computation part being responsible for figuring out what those values are. "The way EC optimizes is that it keeps up with a set of mousetraps that we call the 'population,'" Dr. Garrett explains. "Those mousetraps then go through a selection process to see which ones get to be parents in order to produce the next generation (the focus is on the best mousetraps in the population). After the offspring are produced, another selection determines who gets to survive and comprise the population for the next generation. This process is repeated for as long as it takes to produce the 'best' mousetrap." 
In addition to spending the fall in Latvia, Dr. Garrett is currently spending the summer at Oak Ridge National Laboratory (ORNL) in Tennessee, assisting in writing computer software that will allow a particular set of machines to run on Titan, ORNL's supercomputer that is currently the fastest in the world. "Writing software that can efficiently use the computational power of a machine this size is difficult." says Dr. Garrett. "Even though I've worked on this software for over two years, I'm a novice compared to the professionals at ORNL. I'm grateful for the opportunity to learn from some of the best out there." 
Not only does Dr. Garrett get to experience Latvia this fall, his wife of ten years, Ashley, and their two children, Ian (5) and Zoe (2), will accompany the professor on his Fulbright adventure. The family plans to travel as much of Europe as possible and enjoy the experience of a "real" winter with snow-covered grounds. 
Dr. Garrett is originally from Cherokee County and graduated from Spring Garden School. He earned his bachelor's and master's degrees from JSU in 1999 and 2002, respectively. In 2008, he earned his doctoral degree in computer science from Auburn University. He has been employed at JSU since 2002. 
MCIS Department Head, Dr. Donnie Ford, summarizes Dr. Garrett's accomplishments by saying, "Dr. Garrett is an excellent teacher and is doing some very interesting research. He is a definite asset to our department, college and JSU." 
For more information about this story, please contact the Office of Public Relations at (256)-782-5636.
Photo: Dr. Aaron Garrett (courtesy of Dr. Garrett)