JSU Music Scholarship Honors Decatur Teacher Ramona Love Prater
05/10/2013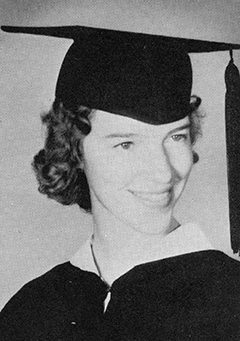 Ramona Love Prater was a life-long lover and learner of music, passing along the gift of playing piano and singing to generations of Alabama students. Most of her life was spent teaching students in the Decatur and Huntsville areas, and it was one of these former students, Russ Gordon, from Austin High School (1971) that oversaw raising funds for a music scholarship in her memory. Mrs. Prater is a native of Jacksonville and passed away in 2002. She graduated from JSU in 1961 with a bachelor's in music education.
Mrs. Prater and her husband, Clarence, did not have children, but Russ Gordon (1983 JSU alumnus) considers himself one of their many adopted children.

 "She was loved by everybody," says Mr. Gordon. "Some of us more fortunate students got adopted by Ramona and Clarence. She was more than just a teacher. She was a friend – and, a surrogate mother to many." The Prater's home was always open to students, which is why Mr. Gordon and several other pupils of Mrs. Prater have contributed to the scholarship fund.  The fund organizers are hopeful that others will join in donating to support the Ramona Love Prater Memorial Annual Scholarship for Music.
Dr. Legare McIntosh, Music Chair, says, "Scholarships are extremely important for music students. In addition to books, music students  have the added expense of purchasing a professional grade instrument."  The scholarship will be awarded annually to a junior or senior in the department of music at JSU. A review board will meet this summer to select the first recipient.  
For more information about the Ramona Love Prater Memorial Annual Scholarship for Music, please contact LeAnn Crowe, JSU Development Officer – Major Gifts, at
lcrowe@jsu.edu
or 256-782-8240.
Photo: Ramona Love as a senior at JSU. (Photo from the 1961 Mimosa)