Jacksonville State University Confers 707 Degrees at Spring Commencement
05/20/2013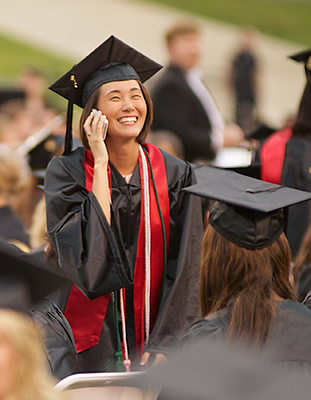 Seven hundred seven candidates for graduation crossed the stage to receive their degrees during Jacksonville State University's Spring 2013 Commencement exercises on Friday, April 26 at JSU Stadium.
Graduating Summa Cum Laude and leading the class were top graduates Cara Lynn Brenner of Hendersonville, Tenn., Bachelor of Science; Gary Matthew Cochran of Anniston, Ala., Bachelor of Social Work; Morgan Elizabeth Cox of Wellington, Ala., Bachelor of Science; Victoria Anne Elliott of Cropwell, Ala., Bachelor of Arts; Kristin Nicole Hays of Southside, Ala., Bachelor of Science; Amy Moore Hill of Altoona, Ala., Bachelor of Science; Robert R. Lilly of Hoover, Ala., Bachelor of Science; Megan Leanne Talton of Boaz, Ala., Bachelor of Science; and Chelsey Marisa Wilkie of Centre, Ala., Bachelor of Science.

The faculty led the processional and University President Dr. William A. Meehan presented the degrees.
Dr. Glen Browder, former U.S. Congressman and Emeritus Professor of American Democracy at JSU, was the commencement speaker. The title of his commencement address was "Top 10 Parental Pearls of Wisdom for the Class of 2013."
At the ceremony, JSU awarded Dr. Browder the honorary doctor of letters for his accomplishments on behalf of the citizens of Alabama.
JSU's Spring Commencement was televised on WEAC-TV24 (local Cable One channel 9). It was also streamed live on the internet and was available for online viewing for two weeks following commencement.
View the Graduation Photo Slideshow on Flickr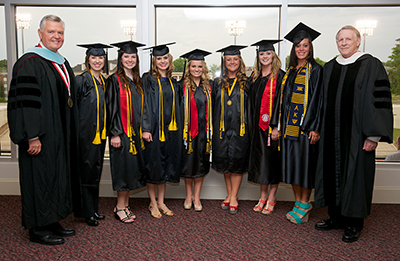 Photo- Seven of the nine graduates with top GPA's are shown with Jacksonville State University president Dr. William Meehan and Dr. Glen Browder, former U.S. Congressman and Emeritus Professor of American Democracy at JSU. From left: Dr. William Meehan, Amy Hill, Kristin Hays, Victoria Elliott, Morgan Cox, Chelsey Wilkie, Megan Talton, Cara Brenner, and Dr. Glen Browder. (Matt Reynolds/JSU)