Jacksonville Opera Theatre presents a Classic Gilbert and Sullivan, The Mikado
05/10/2013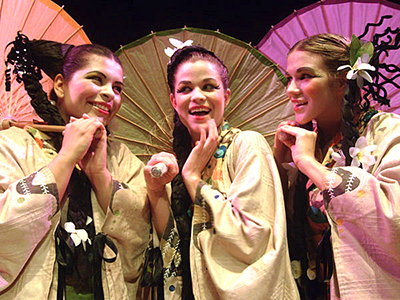 What – "The Mikado" (operetta by Gilbert and Sullivan)

Who – Jacksonville Opera Theatre of Jacksonville State University (JOT)

When – June 7 & 8 – 7:30pm curtain; June 8 & 9 – 2:30pm curtain (2 shows on Saturday)

Where – Wallace Hall of Gadsden State Community College, Gadsden, Alabama

Cost – Students - $12; Adults - $20 Purchase tickets online at
www.jacksonvilleopera.org
 or Call for tickets-Wallace Hall Ticket Center–256-543-ARTS
Jacksonville Opera Theatre presents a Classic Gilbert and Sullivan!
One of the beauties of a Gilbert and Sullivan operetta is the topical humor and the ability to contemporarily update references that W.S. Gilbert wrote into the libretto.  With that in mind, don't be surprised when Ko-Ko, The Lord High Executioner of the town of Titipu, the fictional Japanese setting of "The Mikado", starts singing that the "cretins from the Music Department" and the advisor to President Meehan are on his list of future executions.
The references in this production by JOT don't stop there.  We're treated to a chorus of car companies – Suzuki, Mitsubishi, Toyota, Honda and the like – and mentions of Snooki, text messaging, teenagers with pierced faces and of course, the Tea party.  Anachronisms abound in Gilbert and Sullivan's romance about a wandering minstrel who falls for a little maid from school, who is desired by said Lord High Executioner.
Come join us for an evening of side-splitting humor with a Japanese flair!
CAST LIST
The Mikado of Japan – Jarrod Lee- Washington, DC (guest artist/JSU alumnus)
Nanki Poo – Aaron Martin- Adger, Alabama
Ko-Ko – Daniel Machen – Vestavia Hills, Alabama
Pooh-Bah – David Lawshe –Birmingham, Alabama
Pish-Tush – Macon, Prickett – Alexandria, Alabama
Yum-Yum – Rebekah James – Delta, Alabama
               - Debra Mantua – Rockville, Maryland
Piti-Sing - Jessica Lister – Southside, Alabama
Peep-Bo – Scott Johnson – Gadsden, Alabama
Katisha – Amber Quillen – Alexandria, Alabama
            - Meg Griffin – Carrollton, Georgia
Go-To – Justin Lockridge – Heflin, Alabama
Sumo Wrestlers – Kaitlyn Graves – Tuscaloosa, Alabama
-       Ellen Abney – Tallapoosa, Georgia
*The parts of Yum-Yum and Katisha are double cast
Chorus
Ellen Abney – Tallapoosa, Georgia
Ashley Boyd – Weaver, Alabama
Brianna Garrett – Huntsville, Alabama
Caelan Goss – Piedmont, Alabama
Kaitlyn Graves – Tuscaloosa, Alabama
Meg Griffin – Carrollton, Georgia
Rebekah James – Delta, Alabama
Scott Johnson – Gadsden, Alabama
David Lawshe – Birmingham, Alabama
Noya Levy – Washington, DC
Jessica Lister – Southside, Alabama
Justin Lockridge – Heflin, Alabama
Debra Mantua – Rockville, Maryland
Aaron Martin – Adger, Alabama
Daniel Machen – Vestavia Hills, Alabama
Caylen McCall – Oxford, Alabama
Dylan McCombs – Morris, Alabama
Matthew Palmer - Alabama
Macon Prickett – Alexandria, Alabama
Amber Quillin – Alexandria, Alabama
Marissia Simmons – Anniston, Alabama
Aaron Smith – Wellborn, Alabama
Lacy Taylor – Rome, Georgia
Justin Westley – Jacksonville, Alabama
Kevin Ward – Tallassee, Alabama