Nedovic, from Jacksonville to Montenegro
04/04/2013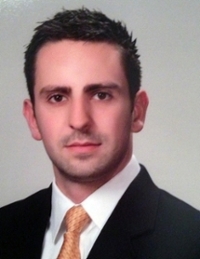 Basketball brought Andrej Nedovic to the United States from Montenegro, a small country about the size of Connecticut located along the Adriatic Sea in southeastern Europe. In his native country, students are unable to play sports and continue with high school studies. They must choose one or the other. Since students are allowed to play sports and continue going to school in the United States, Andrej chose to attend high school in Albertville, Al at Asbury High School, his senior year.

After graduating in 2006, Andrej returned home to Montenegro. Attending college in the U.S. seemed out of reach with his dad bringing home a salary of roughly $1500 per month. When his dad offered to take out a loan to pay for his first semester in the U.S., Andrej accepted the generous gift and enrolled in Gadsden State Community College. Knowing his dad was unable to acquire additional loans, Andrej was on his own to bankroll the remainder of his education, so he worked as a manager at Classic on Noble restaurant in Anniston and as an assistant manager at Walmart. It was not unusual for Andrej to work eighty hours per week. Upon completion of his associate degree with honors at Gadsden State, he enrolled at JSU.

Entering JSU, Andrej's goals were to finish college, learn as much as possible, and return to Montenegro as a positive influence of change. Montenegro had been under influences of Communism since WWII, leaving many Montenegrins to become dependent on the government. Andrej wanted to return home to help raise the standard of living and promote less government reliance. "My country is a perfect place to live. The people are kind, smart, proud and honest. There is a deep sense of caring for one another and great family values," Andrej says.

In 2010, Andrej graduated with a degree in finance from JSU. He then went on to earn his MBA degree at JSU in 2012. One of Andrej's fraternity brothers, Patrick Rose, says of Andrej, "Andrej is one of those people who possesses an intelligence and personality that would allow him to be successful at anything he chooses to do. After college, I had the privilege of working with him on a few projects and consider myself fortunate to have Andrej as a friend and associate, both professionally and personally."

Now back in his native country of Montenegro, Andrej has been working in the Office of the Prime Minister under the head finance advisor since January of this year. Under Montenegrin law, government workers must complete a nine-month period of entry-level work, where they are expected to learn the laws, procedures and the technical skills necessary to work with diplomats from other countries. Upon completion of this period, Andrej will then be required to take and pass exams in order to continue serving in the Office of the Prime Minister, where he hopes to stay. Currently, Andrej is also running for president of the Youth Council of the Democratic Party of Socialists. DPS is a major political party in Montenegro.

When asked about what he misses most about the United States, Andrej is quick to respond, "Southern food. Most of it is fried and bad for you, but it is so good!" He also misses the availability and selection of products, especially the convenience of ordering over the internet. In Montenegro products are not readily available, and many that are, cost twice as much.

During his time in the Jacksonville area, Andrej learned some very valuable lessons: "I learned that no matter how strong an individual you are, you cannot achieve your goals without help from family and friends. And, I learned that life never goes as expected, but if you never give up, good things will come unexpectedly."

"I would like to give a special thank you to everyone that helped me on my journey in Alabama," states Andrej. He would also like to extend special thanks to David and Cathy Mashburn and their daughter Crystal, Belinda Childress, Dr. John Ketterer, Earl Warren, Sigma Nu, and everyone at JSU and Calhoun County.

For more information about this story, please contact the Office of Public Relations at (256)-782-5636.