CANCELLED- Holocaust Survivor Max Steinmetz WIll Speak at Annual Remembrance Program
04/01/2013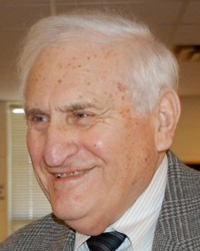 Updated 4/11/2013- Due to the threat of severe weather that closed the university, this event has been cancelled.
Speaker Update: Due to illness, Mr. Steinmetz will be unable to speak in person at the Holocaust Remembrance. In lieu, a recent interview with Mr. Steinmetz will be shown.
The 31st annual Jacksonville State University Holocaust Remembrance will be held April 11, 2013 at 7:30 p.m., Stone Center Theater, Jacksonville State University. This event is free and open to the general public. Keynote speaker will be Holocaust survivor Max Steinmetz.
Mr. Steinmetz was born in Târgu-Lăpuş, Romania. Between 1942 and 1945, from the time he was seventeen until he was twenty, he was held in captivity in numerous ghettos or camps where he slaved as a laborer. He was the only member of his family to survive.
When he was liberated in 1945, his 6'1" body weighed only eighty pounds. He immigrated to the U.S. in 1948 and currently resides in Birmingham, Alabama. This will be Mr. Steinmetz's second keynote speech at the JSU Holocaust Remembrance.
The Holocaust Remembrance began in 1982 as a project of the JSU Wesley Foundation. Over the years, attendance at the event has grown from a short event attended by 25 people to the current annual programs which often have an attendance of several hundred from the campus and surrounding communities. The annual Holocaust Remembrance is made possible by the JSU Holocaust Remembrance committee in cooperation with the JSU Student Government Association. Faculty, students, and community members participate in order to remember Holocaust victims and in the hope that, through education, an event such as the Holocaust can be prevented from ever happening again.
For more information, please see the Remembrance Committee's website, http://www.jsu.edu/holocaust.
Photo- Max Steinmetz (Courtesy, http://www.bhamholocausteducation.org/index.htm)