Roman Festival Brass to Perform Free Concert at Mason Hall on March 10
03/04/2013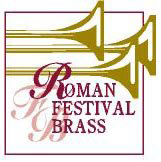 Experience brass band in the British style on Sunday, March 10, when the Roman Festival Brass of Rome, Ga., performs a free concert in the Mason Hall Performance Center at 3 p.m.
Roman Festival Brass is under the direction of JSU alumnus Don Robinson/'78.  Many members of the band are also Jacksonville State alumni and are looking forward to sharing a different type of ensemble with their alma mater.  A British Style brass band consists of some instruments not typically seen in American bands.  The instrumentation includes cornets, flugelhorn, tenor horns, baritones, trombones, euphoniums, two types of tubas and a full complement of percussion.
Roman Festival Brass is beginning its 12th season of presenting quality literature written for British style brass bands. Previous performances include the North American Brass Band Association competition and the Great American Brass Band Festival in Danville,, Ky.  If you have never heard a British brass band you are in for a treat.  Composers use this instrumentation to create a wide variety of musical styles and timbres. Among selections the band will play include classics like "Irish Tune From County Derry," "French Military March," and an obscure Sousa march entitled "Transit Of Venus." Roman Festival Brass will also bring several recently released compositions as well as explore the rich harmonies of jazz in "A Nightingale Sang In Berkley Square" and "Meet the Flintstones."