JSU Alum, Nurse Preston Crider Joins Army Reserves
03/06/2013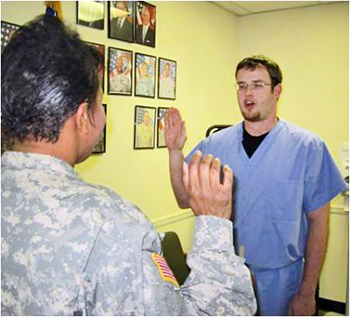 A Birmingham operating room nurse and JSU alum is lending his much-needed skills to the military. Preston Crider, who works full-time at Trinity Medical Center, took the oath of office Tuesday and was commissioned as a first lieutenant in the U.S. Army Reserve.
"I always wanted to be part of the military but I went to schoole to be a nurse," said Crider.. "When I saw the recruiter outside the operating room one day, it was a message to me from the man upstairs."
Crider, who lives in Hoover, earned his associates degree at Wallace State and his Bachelors of Science in Nursing at Jacksonville State. He worked for a year at Shelby Baptist and has been with Trinity Medical Center for two and a half years.
Photo: Operating room nurse Preston Crider, right, takes the oath of office from Army Capt. Rena Barron and is commissioned as a first lieutenant in the U.S. Army Reserve. (courtesy)