JSU Family Mourns Tragic Loss of International Student Maucler Charles
09/10/2012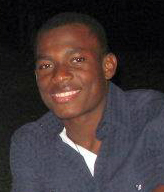 The Jacksonville State University family today is mourning the loss of Maucler Charles, a 21-year-old international student and biology major from Ouanaminthe, Haiti. Charles drowned in a tragic accident on Saturday, Sept. 8, during an annual International House retreat to Horns Creek Resort on the Ocoee River near Cleveland, Tenn.
Charles was beginning his second year in the International House and had distinguished himself with a 3.5 GPA. He was also an excellent soccer player and house member, according to Dr. John Ketterer, director of the International House Program, and was very well loved among his fellow students. The university has begun grief counseling to help the many students in the program who Dr. Ketterer said are "shattered by the experience" of losing their friend and fellow housemate.
The Ocoee trip is a longstanding tradition for the International House Program. According to Dr. Ketterer, the group arrived at the Horns Creek Resort at noon Saturday and the students had lunch before dividing up into groups. Some immediately went to the high ropes and zipline course and others proceeded to the paintball course. Just as they finished their courses, it began to rain. As they proceeded back to the cabin, some of the students elected to walk around the small pond at Horns Creek, some decided to swim across, and a few, including Charles, chose to cross by boat. As they proceeded across the pond, which Dr. Ketterer described as being no more than 200 feet across, the boat tipped. Charles did not know how to swim.
When Charles did not surface, the students immediately formed a line and began to search for him. According to Dr. Ketterer, 911 was called within 5-6 minutes and emergency personnel arrived within 10. The incident occurred at 3:15 EDT.
The deputy medical examiner of Polk County ruled the drowning to be an accident.
The remainder of the group returned to Jacksonville on Saturday evening, arriving on campus at around 9:30 CDT. Grief counselors were on hand to begin counseling, which lasted throughout the weekend and is expected to continue in the weeks ahead.
K.L. Brown Funeral Home is handling the arrangements, including repatriation to Haiti, according to Dr. Ketterer. Representatives of Charles' family have been notified and are expected to arrive on campus on Tuesday.
Details on local services will be shared as they become available.
Photo: Maucler Charles (JSU ISO via Facebook)
Read more about Maucler Charles' journey to the U.S. in this 2011 Rome News-Tribune story