Jacksonville Opera Theatre Presents "The Fisher, the Fish and the Wife" September 14-16
09/10/2012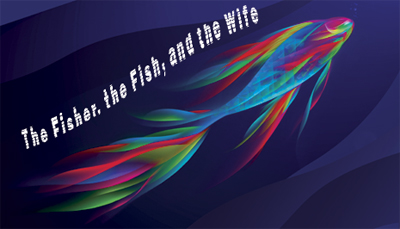 Jacksonville Opera Theatre kicks off its season with a children's opera, "The Fisher, the Fish and the Wife" by Bruce Trinkley. The modern retelling of the classic Grimm Brothers fairy tale is specifically designed to bring opera to children, although all ages will enjoy the music, the creativity of the singers and the visual artistry of the stage. Dr. Nathan Wight, director of the opera, again brings the magic of an age-old fairy tale to life with colorful sets, costumes and lighting, combined with plenty of imagination that will intrigue the child in all of us.
The plot begins with a fisherman catching a magical flounder, who grants him seven wishes. The fisherman is perfectly content as he is, but his wife finds plenty of things to wish for. She wishes her husband and herself into a nicer house, and then upgrades that house into a McMansion. Not yet content, the wife makes a wish to become Governor and then, President of the United States. Still not satisfied, she wishes herself into becoming Pope! But when she wishes for the power of God, events take a surprising turn. Come see what happens!
"The Fisher, The Fish and The Wife" will be presented in the Performance Center of Mason Hall, on the campus of Jacksonville State University. Performances are September 14th at 7pm, September 15th at 3pm and 7pm and September 16th at 3pm. Tickets are $2 for students and $5 for adults and can be purchased on the JOT website, www.jacksonvilleopera.org.
Cast List
The Fish- Meg Griffin (Carrollton, GA)
The Wife- Ellen Abney (Tallapoosa, GA)
The Fisherman- Kevin Ward (Tallassee, AL)
Maid/Press Secretary/Speaker of the House- Christina Booker (Huntsville, AL)
Cook/State Trooper/Presidential Chief of Staff- Kaitlyn Graves (Tuscaloosa, AL)
Guard/Gubernatorial Chief of Staff/Joint Chief of Staff- Kaylon Gilley (Piedmont, AL)
Consultant/Chairman of the Federal Reserve- David Lawshe (Birmingham, AL)