CNN Hero and Wine to Water Founder Doc Hendley to Visit JSU on September 11
08/22/2012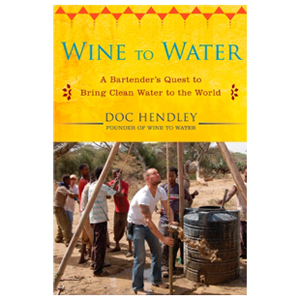 Jacksonville State University's Summer Reading Program committee is excited to present Doc Hendley, author of Wine to Water at Leone Cole Auditorium on September 11 at 7 p.m.
As an introduction to our year-long theme of service, Doc Hendley will visit the campus of Jacksonville State University on September 11 to speak to students about the Wine to Water organization, as well as share his personal experiences in service. As a college student with no clear direction, Hendley related to many freshmen as he searched for his purpose and finally found it. His inspiring speaking teaches us to do what we can with what we have, illustrates the immense power of relationships to transcend perceived barriers and proves the power of one to transform the impossible into the inevitable. After the program, Doc will sign copies of his books, which will be available for purchase at the event.

The goals of Jacksonville State University's Summer Reading Program are to unite the freshman class and to promote thought and action on a variety of relevant issues by reading a common text prior to beginning the first semester of college. The text will prompt discussion in English composition and First Year Student Experience courses as well as serving as the catalyst for discussion in Freshman Forum and the C.O.C.K.Y. Experience through the Department of University Housing.

The 2012 selection, Wine to Water, is a biographical tale written by Hendley, a small town bartender who launched a series of wine-tasting events to raise funds for clean-water projects and to bring awareness to the world's freshwater crisis. Initially planning to donate the proceeds of his events through traditional humanitarian channels, Hendley found himself traveling to one of the world's most dangerous hot spots: Darfur, Sudan. While on his journey, he witnessed a government sponsored genocide where the number one weapon wasn't bullets: it was water. Today, Hendley and his Wine to Water events continue to help stricken peoples repair and maintain water containment systems in places like Darfur, Cambodia, Uganda, and Haiti.
Hendley's book Wine to Water is a gripping story about braving tribal warfare, natural disasters and encountering fascinating characters in far-flung regions of the world. It is also an authoritative account of a global crisis and an inspirational tale that proves how ordinary people have the ability to impact the world. The themes of humanitarianism, service and perseverance are the compelling ideas that made Wine to Water the perfect selection for Jacksonville State University's Summer Reading Program in 2012.
In line with Hendley's themes, Jacksonville State University's students and faculty will have numerous opportunities to respond to Hendley's challenge through various service opportunities that focus on both global citizenship and service. The 2012 Summer Reading Program and related activities will allow students and faculty to partner with organizations and join in activities where they can serve their university, community and ultimately, the world.

For more information on Wine to Water and Doc Hendley, visit winetowater.org.