JSU Drama Presents 'Cinderella's Big Dream' July 10-14
07/03/2012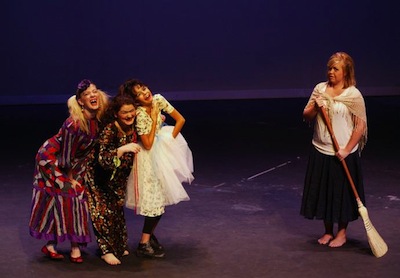 What happens to Cinderella after the glass slipper fits? She marries the handsome prince, right? In Cinderella's Big Dream, a retelling of the classic tale through an original musical version written and directed by Eric Traynor, Cinderella decides she would rather go to college and eventually become a doctor. The only way she can do so is to get scholarships so she can leave her awful (and awfully funny) stepsisters and stepmother. Meanwhile, the rest of the family prepares for the Skunk Holler debutante ball. Original music, lots of laughs, audience participation and a really good lesson all accompany this fun fractured fairy tale!
The JSU Drama Department will perform Cinderella's Big Dream July 10-14 at the Ernest Stone Performing Arts Center on the JSU Campus. Showtime is at 2 p.m. daily.
Tickets are $5 each. For more information, please call 256-782-5648.
Photos: Cinderella's Big Dream (Courtesy of JSU Drama)