SGA Sponsoring Battle of the Bands
06/13/2012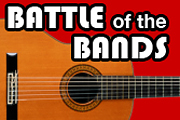 UPDATED 7/31/2012-- Due to threat of inclement weather, this event has been rescheduled for August 9, 2012. All other details remain the same.
Does your band need recognition? 
Does your band need a little extra cash?
Does your band have what it takes?

Audition at the Battle of the Bands for the chance to play at the tailgate before the football game on October 20, 2012!
- Audition open to ALL students on campus!
- Any genre of music
- Music must be PG-13
- All of the winner's songs to be played at the tailgate must be approved by the SGA Executive Team.
- Auditions will be held on July 31 from 1 p.m. - 4 p.m. on the TMB Lawn*
- Auditions will last 20 minutes. Be prepared to WOW the judges!
- Stage and limited sound equipment will be provided. Bring your own instruments.

* In case of rain, will reschedule auditions. 


TO SIGN UP:

- Fill out the sign up sheet at the Office of Student Life on the 4th floor of the Theron Montgomery Building from June 18- July 11
- Contact Alex Rainwater, Vice President of Student Activities by phone: (256) 782-8491; or by e-mail: sgavpsa@jsu.edu from June 18- July 11