JSU Drama Presents 'Dead Towns of Alabama' June 20-24
06/15/2012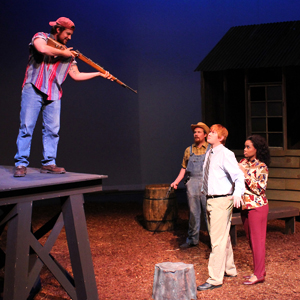 Nathan Coleman is 45 years old. A clerk in a bookstore, his marriage is failing and his life is going nowhere fast. But one day he gets a mysterious letter, a map and old photos in the mail—photos of the father who abandoned Nathan and his mother 35 years before. Impulsively he drives to the small Southern town where the old man grew up and plunges into the middle of a violent struggle between the Old South and the New. Along the way he finds clues to his father's fate and a room in a house that holds a painful secret.
This is
Dead Towns of Alabama
by Barry Bradford, winner of the 2011 Southern Playwright's Competition. The play will be presented by the JSU Drama Department June 20-24 at the Ernest Stone Performing Arts Center. Performances are 7 p.m. nightly Wednesday - Saturday June 20-23 and at 2 p.m. on Sunday, June 24.
Tickets are $10 for adults, $8 for JSU personnel and senior citizens, and $5 for students and military. For tickets, please call (256) 782-5648.
For more information, please contact Eric Traynor at
etraynor@jsu.edu
or Carlton Ward at
cward@jsu.edu
.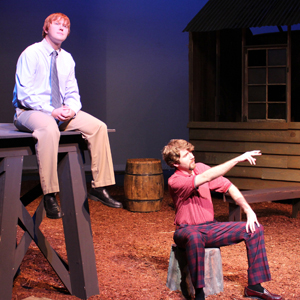 About the photos: Main image (from left) Daniel King Jr., Cody Harrell, Nathan Andreasen and Vivian Watson. Above (from left) Nathan Andreasen and Justis Self.