Crime Researcher, Alumnus Dr. Eddie Blackwelder to Donate Collection, Establish Scholarship at JSU
05/16/2012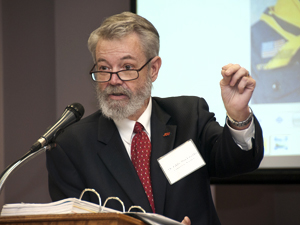 By Lauren Cunningham
Jacksonville State University alumnus Edward Blackwelder goes by many titles, including doctor, professor, and minister. None of those words usually brings the term "serial killer" to mind. But Dr. Blackwelder's life work as a professor and minister has focused on them.

According to Dr. Blackwelder, it all began in 1964 when the Piedmont native was a senior in high school.

He wrote a term paper titled "Crime in America," and from then on, he was very interested in crime. He attended JSU, where he earned a bachelor's degree in political science with a minor in sociology, then a master's degree in criminal justice. He later became a professor, where he narrowed his research to serial killers.

As a professor, Dr. Blackwelder wanted to give his students more than just the classroom experience. He felt the best way for his students to learn was through hands-on experience, and what could be more hands-on than meeting and interviewing actual serial killers?

Throughout his work, Dr. Blackwelder interviewed many serial killers such as the infamous Charles Manson and Ted Bundy. Over the years and with the help of his wife Shirley, he compiled an immense amount of research. Dr. Blackwelder is now retired, but he does not want all his years of research to go to waste. That is why he and his wife are donating his research to JSU, along with a scholarship in their name.

Dr. Mark Fagan is Head of the Department of Sociology and Social Work at JSU.

"We are delighted to become the repository for the extensive collection of data that has been collected by Dr. Blackwelder throughout his approximately 50 years of research in criminology and especially serial killers," he says. "Dr. Blackwelder has a great deal of original information that he acquired through personal interaction with many serial killers through the years.  This research has been compiled in documentaries and several other forms of media.  We will have on hand one of the most significant collections of primary data on this subject that is held at any academic institution in our nation.  This information can be a valuable resource for increasing knowledge of this topic for our current and future students in several academic disciplines."

When asked why Dr. Blackwelder chose to make this donation, his love for JSU becomes apparent.

"Jacksonville State University holds a special place in my heart," he says. "They have a big university capability, while maintaining a personal, friendly environment that to me is more conducive to learning."

Dr. Blackwelder and his wife put a lot of thought into the scholarship they are donating. The scholarship is for a JSU student majoring in social work. Their reasoning behind this is quite interesting. Dr. Blackwelder says that in his research he found that all serial killers had some sort of traumatic experience before the age of five.

He says that church organizations and social workers are usually the first to pick up on something being wrong in the home, since the children are not yet school-aged. He and his wife hope that by helping a student to become a social worker, they can, in turn, help to prevent a young person from harm.

"It's our little way of helping humanity," he says.

Dr. Blackwelder and his wife have also put some of his research online so that it can be viewed throughout the world. Visit his website at criminologyresearch.org. To learn about JSU's sociology program, visit www.jsu.edu/sociology. 
Photo: Dr. Ed Blackwelder presents at a recent Social Work Conference at Jacksonville State University. (Angie Finley/JSU)