Occupy the OccuPast: Echoes of Dissidence in the Underground Newspaper Collections
04/02/2012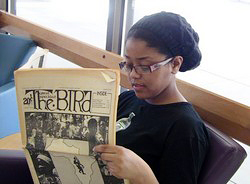 Today's Occupy movement isn't the first protest movement to make headlines. Come visit the Houston Cole Library on April 5 and relive the turbulent 1960s through Occupy the OccuPast: Echoes of Dissidence in the Underground Newspaper Collections. This presentation by fifth floor librarian Laurie Charnigo will discuss parallels between today's protest movement and the issues voiced in the 1960s counterculture newspapers, including such papers as The Great Speckled Bird.
This event highlights the current library lobby display, which focuses on the The Great Speckled Bird, the legendary Atlanta counterculture newspaper of 1965-1975, as well as other publications in the Underground Newspaper Collection. 
For more information about the Underground Newspaper Collection and this event, visit Laurie's educational blog.