Film Screening of "Coming Off the DL" on Sunday, April 15
04/04/2012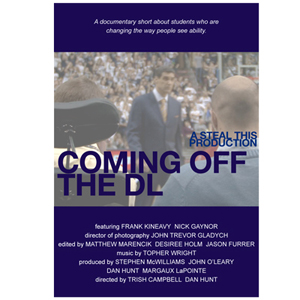 Jacksonville State University students and employees and the Jacksonville community are invited to a free screening with the filmmakers of Coming Off the DL, a documentary short about students who are changing the way people see ability. 
The screening and a Q&A discussion on disabilities awareness and education will be on Sunday, April 15 at 6 p.m. in Room 355 Ayers Hall on the JSU campus.
Coming Off the DL features Frank Kineavy and Nick Gaynor, with photography directed by John Trevor Gladych. Directors are Trish Campbell and Dan Hunt, and producers are Stephen McWilliams, John O'Leary, Dan Hunt and Margaux LaPointe. Edited by Matthew Marencik, Desiree Holm and Jason Furrer, with music by Topher Wright.
Coming Off the DL is a Steal This Production.
This event is sponsored by CP Scholars and the Disabilities Support Services at JSU. For more information please visit our website.