Visit Houston Cole Library's Underground Newspaper Display
03/06/2012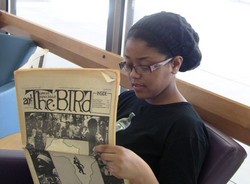 Come visit the Houston Cole Library and explore The Great Speckled Bird Exhibit (Atlanta's legendary counterculture newspaper from 1965-1975) and other alternative newspapers in the Underground Newspaper Collection Display in the Lobby of the Houston Cole Library March 1 - April 5th.

Laurie Charnigo will also present on April 5 at 3:30 p.m. on the 11th floor of Houston Cole Library on Occupy the OccuPast: Echoes of Dissidence in the Underground Newspaper Collections discussing parallels between 

today

's protest movement with the issues voiced in the 1960's counterculture newspapers, including such papers as The Great Speckled Bird.

Visit Laurie's educational blog to learn more about the event.