Jacksonville State University Named a Tree Campus USA
03/08/2012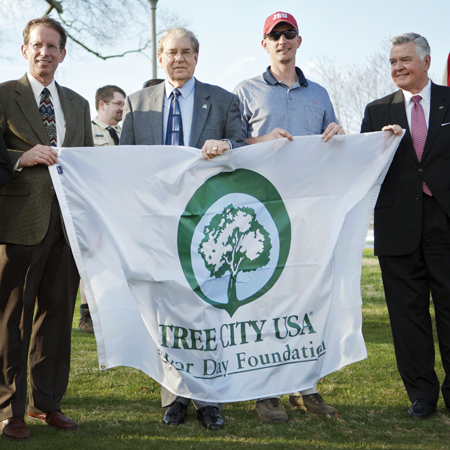 The Arbor Day Foundation has named Jacksonville State University a 2011 Tree Campus USA in honor of its commitment to effective community forestry management. This is the first year of recognition for Jacksonville State.

The designation became official at a February 23 Arbor Day program on the slope in front of the Theron Montgomery Building. Making the special presentation to the university was Neil Letson of the Alabama Forestry Commission. Also participating in the ceremony were city and campus officials, members of the local Tree Commission,  Boy Scouts, faculty and students.

Jacksonville State University achieved the Tree Campus USA designation by meeting the required five core standards for sustainable campus forestry: a tree advisory committee, a campus tree-care plan, dedicated annual expenditures for its campus tree program, an Arbor Day observance and the sponsorship of student service-learning projects.

"Students throughout the country are passionate about sustainability and community improvement, which makes Jacksonville State University's emphasis on well-maintained and healthy trees so important," said John Rosenow, chief executive of the Arbor Day Foundation. "By achieving Tree Campus USA recognition, Jacksonville State University will continue to set an example for other colleges and universities and give students a chance to give back to both their campus community and the community at-large."

Tree Campus USA, a national program launched in 2008 by the Arbor Day Foundation, honors colleges and universities and their leaders for promoting healthy trees and engaging students and staff in the spirit of conservation.

During 2011, the Arbor Day Foundation and corporate sponsor Toyota helped campuses throughout the country plant 30,000 trees. Tree Campus USA colleges and universities have invested more than $22 million in campus forest management. More information about the Tree Campus USA program is available at www.arborday.org/TreeCampusUSA.
Scenes from the February 23 Arbor Day Program at JSU
(Photos by Matt Reynolds/JSU)