Jacksonville Opera Theatre Presents 'Romeo et Juliette'
03/02/2012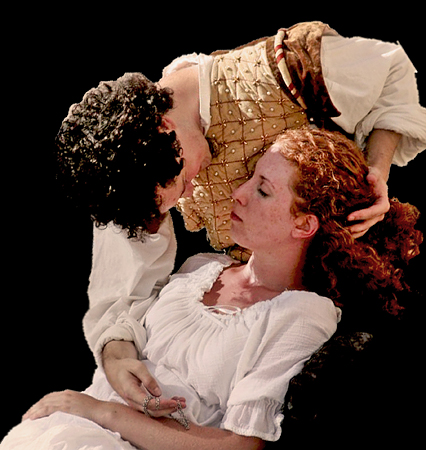 Jacksonville Opera Theatre is once again breaking ground, this time with collaboration between four different artistic groups.  Jacksonville Opera Theatre will join the Etowah Youth Orchestra, the Downtown Dance Conservatory, both of Gadsden and the Ars Nova Opera Company of Huntsville, to bring the classic story of Romeo and Juliet to life.

Romeo et Juliette, by French Composer Charles Gounod, is a French Grand Opera in five acts, including a ballet.  The entire opera is JOT's first opera fully sung in French. Subtitles will be provided during the performance.

JOT's seasoned singers are joined by opera singers from Huntsville, creating the full sound of Grand Opera.  In addition, the JOT Apprentice Program includes students from Calhoun County high schools singing in the chorus, making the opera a fully educational experience for our local singers.  The ballet contained in the opera will offer audiences a facet of Grand Opera that is not usually seen locally.  The Etowah Youth Orchestra will round out this unique experience with a full orchestral sound, performed by Etowah County's finest youth instrumentalists.
 
Romeo et Juliette will be performed on March 23-24 at 7 p.m. in Wallace Hall on the campus of Gadsden State Community College.  Tickets may be purchased by calling 256-543-ARTS.


Cast List - Romeo Et Juliette
 
Romeo – Eric Wilcox (Oxford, AL)
Juliette – Estefania Wilcox (Saks, AL)
Frere Laurent – David Cain (Huntsville, AL)
Mercutio – Cody Harrell (Oxford, AL)
Stephano – Demi Vanderwerff (Huntsville, AL)/Meg Griffin (Carrollton, GA)
Le Comte Capulet – David Lawshe (Birmingham, AL)
Gertrude – Alexandra Van Austin (Huntsville, AL)/Ellen Abney (Tallapoosa, GA)
Tybalt – Kaylon Gilley (Piedmont, AL)
Le Comte Paris – Kevin Ward (Tallassee, AL)
Gregorio – Blake East (Cedartown, GA)
Benvolio – Scott Johnson (Gadsden, AL)
Le Duc de Verone – Jason Wright (Anniston, AL)
 


CHORUS – Chorus master – Scott Johnson (Gadsden, AL)


 
Christina Booker (Madison, AL)
Ashley Boyd (Weaver, AL)
Sarah Burleigh (Anniston, AL)
Kaitlyn Graves (Tuscaloosa, AL)
Daniel Harris (Dalton, GA)
Jessie Hill (Jacksonville, AL)
Emma Jensen (Alexandria, AL)
Allison Judge (Jacksonville, AL)
Jessica Lister (Gadsden, AL)
Justin Lockridge (Heflin, AL)
Caylen McCall (Oxford, AL)
Dylan McCombs (Kimberly, AL)
Cary McKinney (Robertsdale, AL)
Kelli Moore (Gadsden, AL)
Tara Roberts (Hollywood, FL)
Jordan Russell (Weaver, AL)
Caitlin Skinner (Wellington, AL)
Lacy Taylor (Rome, GA)
Alexis Thornton (Jacksonville, AL)
Jeremy Jiles (Birmingham, AL)
 

Special Fundraiser Scheduled for JOT at Classic on Noble

On Thursday, March 8 at 7 p.m., a special benefit event will take place in Anniston.  "Classic Opera at Classic on Noble" will include dinner at Anniston's premiere restaurant, Classic on Noble, while scenes from Romeo et Juliette will be performed. 

This special preview will feature Eric and Estefania Wilcox of Oxford and Saks, respectively; Cody Harrell from Oxford; Kaylon Gilley from Piedmont;  and Meg Griffin from Carrollton, Georgia.  Enjoy the delicacies of David Mashburn's elegant restaurant while feasting your ears on music that you will hear live nowhere else! 

Tickets are $40 for general seating, $50 for Mercutio's, Tybalt's or Stefano's tables and $60 for Romeo and Juliette's table.  All proceeds will benefit the Jacksonville Opera Theatre. 

Tickets are available online at: www.JacksonvilleOpera.org or by calling 1-800-838-3006.