Beth Milam is Miss JSU 2012
01/25/2012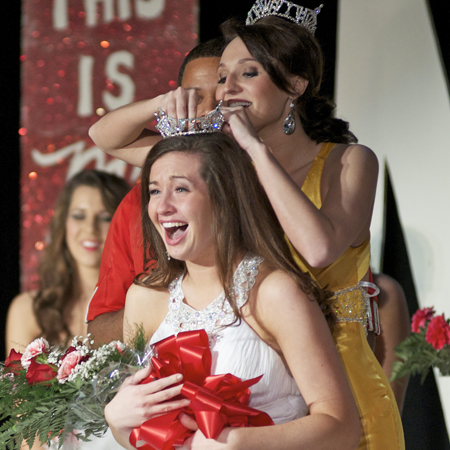 Town and Gown is a weekly column written for the Jacksonville News by a Jacksonville State University employee or student. This week's column is written by Taylor Nicolle, an undergraduate assistant in the Office of Public Relations at Jacksonville State University.


Rock climbing, kayaking, and camping are not activities that one would normally associate with a pageant queen. However, they are among some of newly crowned Miss JSU Beth Milam's favorite past times. She prides herself on not being your "typical pageant girl." Milam explained, "I always thought pageants were for the girls who loved fashion, never for the outdoor girls who don't wear makeup for two months out of the summer. I was really surprised and excited."

On Friday, January 13, 10 women from Jacksonville State competed in Leone Cole Auditorium for the title of Miss JSU, a qualifying pageant for Miss Alabama. They sang, danced, and strutted their stuff in front of a panel of judges in hopes of becoming the next Miss JSU.  

They were judged in the categories of talent, individual interview, swimsuit, on stage question, and evening gown. Whitney Curtis, Miss JSU 2011, passed the crown on to Beth.

First runner up was Emily Towns and second runner up was Kristin Young. Other awards of the night included talent tied between Emily Towns and Hilary Moore, and swimsuit tied between Emily Towns and Kristin Young.

Of her successor, Curtis commented, "I was absolutely thrilled to crown Beth as my successor. Beth has worked very diligently toward this tremendous goal, and I am absolutely positive that she will do the job well."

Beth is a junior majoring in Recreation Leadership with a minor in Communication. It is her dream to become a camp director.  On campus she is involved in Zeta Tau Alpha Fraternity, Baptist Campus Ministries, Fellowship of Christian Athletes, JSU Ambassadors, and the Outdoor Club. She also works at the Pete Mathews Coliseum as a lifeguard and a handler for Cocky, the JSU mascot.

Beth competed in the Miss JSU pageant last year and was named the first runner up. She described that her preparation included the power of prayer, which in turn made her more driven and focused than she had ever been. She also had to prepare mentally as well as "stop biting my nails and start eating healthier." Of her new title, Beth said, "I now have the opportunity to be the best representative of JSU that I can, to shine a positive light on the university, and to really represent JSU as the 'Friendliest Campus in the South.'" She continued, "I am already an Ambassador, and now I get to do it with a crown on my head."

Miss JSU's duties now include attending and supporting events for the Children's Miracle Network, the Miss America Organization's National platform, and also for the Susan G. Komen Think Pink Organization supporting breast cancer research as her personal platform. Her other activities will include parades, judging local pageants, being an ambassador for the university, and being seen at campus events. When asked about what she was most looking forward to, Beth expressed, "I am most excited about hugging kids, the appearances, meeting people, and representing JSU."

The university and local businesses award Miss JSU each year with prizes, some of which include tuition and book scholarships, tanning, teeth whitening, gym membership, gowns, gift cards to various businesses, and a consultation with a pageant consultant.  

Most prizes are to help prepare Beth for the Miss Alabama pageant next January. Beth expressed her thanks to "God, my parents, Mardracus Russell, my boyfriend and his family, my Zeta sisters, all of the JSU faculty and staff, and the local businesses that supported the pageant." Beth admitted that she still gets emotional every time someone tells her congratulations.  She never thought she could do it, but feels that "if it's not fun it's not worth it, and this is the most fun I've ever had."

For more information on the Miss JSU pageant, contact Mardracus Russell, mrussell@jsu.edu.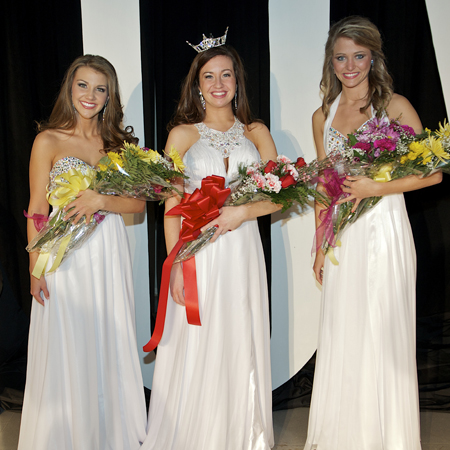 Miss JSU 2012 Beth Milam, center, flanked by second runner up Kristin Young, left, and first runner up Emily Towns, right.
Main Image- Miss JSU 2012 Beth Milam is crowned by Miss JSU 2011 Whitney Curtis.

Photos by Matt Reynolds/JSU