Canyon Concerts
Bluegrass On The Rim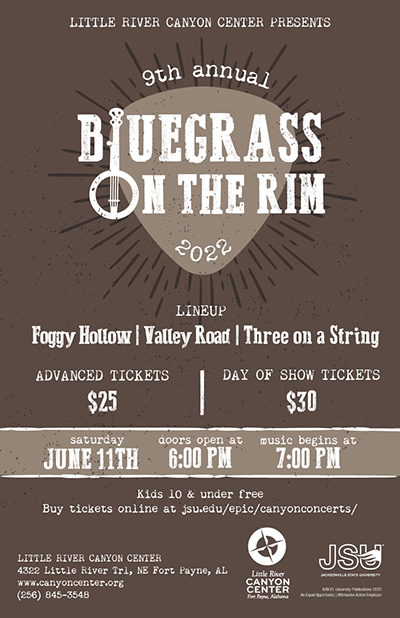 The JSU Little River Canyon Center Bluegrass on the Rim
Will Return June 2022
Doors open at 6 pm Saturday, June 11th Music starts at 7 pm
Featuring
Foggy Hollow | Valley Road | Three on a String
You can experience the bluegrass live! 
For more info call (256) 845-3548
Proceeds benefit environmental education.
 The Jacksonville State University Canyon Center is pleased to announce Bluegrass on the Rim is back and live and in-person! The 9th annual bluegrass show is set for Saturday, June 11th doors opening at 6 pm and music beginning at 7 pm. Tickets will be limited in order to maintain social distance, so buy early! Tickets can be purchased in advance through our website. The event will be outdoors, under the stars so please bring your own chair and/or blanket. Featuring performances from two of our all-time favorite bluegrass bands Foggy Hollow and Valley Road and bringing humor as well as some of the best bluegrass in the industry we welcome Three on a String to the stage. We encourage everyone to make reservations early as tickets will be limited in an effort to socially distance attendees.