Cocky's Best Friend Leaves the Roost
Cocky's Best Friend Leaves the Roost
05/24/2017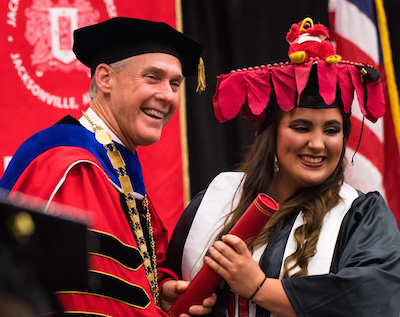 By Heather Greene and Buffy Lockette
While JSU mascot Cocky loves all his fellow Gamecocks, one special student near and dear to his heart is saying goodbye this semester. 
Niki Martin – who has been inseparable with the feathered fella since enrolling at Jacksonville State in 2012 – is moving on to her next great adventure after receiving a bachelor's degree in social work at spring commencement.
Born in Slidell, La., Martin grew up on Sand Mountain in Sardis, Ala., where she worked with Sardis High School's lion mascot program. Upon enrolling at JSU, she became best friends with Cocky while serving as student leader of the mascot program.
"Being best friends with Cocky is absolutely remarkable and very hard to put into words," Martin said. "Cocky is an unbelievable mascot, not just for the crazy and hilarious shenanigans he does, but the compassion and love he shows to every single person he meets." 
Cocky has enjoyed a lot of success with Martin at his side. He received "Best All Around Mascot" at the National Cheer Association (NCA) collegiate summer camp back-to-back in 2016 and 2017. At NCA collegiate nationals, he placed 5th in the nation in 2016 and 2nd in 2017. The two traveled to the FCS National Championship in Frisco, Tex., in 2016 and cheered on the university through hundreds of other sporting events and activities – bringing countless smiles to the faces of kids and adults alike. Cocky and Martin have also assisted with training bomb dogs for Disneyland and Disney World.
Reflecting upon her college experience, Martin said, "JSU has been the best experience of my life. The teachers really care about the students and have helped me be very successful in all my classes. JSU never felt like a big scary university – it quickly became a home away from home. Over the years, I have fallen in love with being a Gamecock, and I am proud to be at JSU."
Following graduation, Martin is teaching high school and college mascot camps while applying to work with professional mascot programs across the US, including Disney World and Universal Studios.
JSU and Cocky are both thankful for all that Martin has contributed to the university and surrounding community. We wish her the best of luck in the future. Fear the Beak!
Photo: Niki Martin (Matt Reynolds/JSU courtesy).