Student Gets Diploma for Birthday
Student Gets Diploma for Birthday
04/24/2017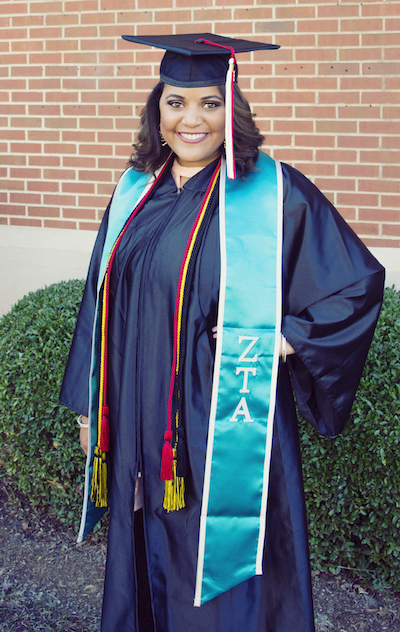 By Heather Greene 
For any college student, graduation day is among the biggest days of one's life. But for Sydney Reed Jones, her college graduation will take place on her 22nd birthday, April 28, making it all the more special. 
A native of Alabaster, Ala., Jones will cross the stage to receive a Bachelors of Arts in Communication with a minor in English.
"I chose JSU initially because of the fact that they have one of the only accredited communication departments," she explained. "I definitely did broadcasting all throughout high school, so I wanted to come to a school that would allow me to do that here. Also, I was looking to get involved in the Greek life, and I received a scholarship as well. So I just knew all those things were going to be available for me on campus verses a bigger university."
Jones explains that she has greatly enjoyed the "opportunities to get involved" at JSU, which is perhaps an understatement considering she has jumped into various student organizations since she came on campus in 2013. She is a member of Zeta Tau Alpha, where she has served as historian, vice president of programs and vice president of membership. Additionally, Jones has been involved with Freshman Forum, the Public Relations Student Society of America, Campus Outreach, the Student Activities Council, and the programs within the Department of Communications.
Jones just completed an internship with the JSU Office of Public Relations and is currently the marketing manager at Pump It Up in Birmingham. In the future, she would love to work in corporate public relations.
In her spare time, which is a rarity in her life, Jones enjoys traveling, spending time with friends, and Netflix. "I just don't like to sit still," she said. "My hobby is always having something to do. I like to be very busy."
Regarding her graduation birthday gift of a diploma, Jones stated, "I think its so exciting! When I found out that graduation was going to be on my birthday, it just made it even more of a goal."
Jones is the daughter of Brandy and David Barr and Sean and Gina Jones. Following graduation, she is looking forward to celebrating with the 40 or more family members who are coming to watch this milestone in her life. 
Jones will be among the more than 700 candidates who will receive their degrees on April 28 in the Pete Mathews Coliseum. Ceremony times will be:
10 a.m. - School of Business and Industry  and School of Health Professions and Wellness
2 p.m. - School of Human Services and Social Sciences and School of Science
6 p.m. - School of Education and School of Arts and Humanities 
The bell ringers for the ceremonies will be Michael Brett Langston (10 a.m.), Alec Young (2 p.m.), and Ashley Marie Toney (6 p.m.). Alumni speakers will be Susan Pinkard (10 a.m.), Wayne Barger (2 p.m.), and Autumn Brown (6 p.m.).
Ample seating, including accessible seating, is available at the coliseum for family and guests of the graduates. Accessible parking is available in the parking lots on the north and south sides of the building. Captioning services for the deaf and hard of hearing will be available at the north end of the coliseum, while ASL interpreting will be provided on stage. 
For guests who cannot attend the ceremonies, commencement will be televised live on WEAC-TV24 (local Cable One Channel 9). Companies with TV 24 include Cable One (Anniston, Oxford, Munford, Pell City and Jacksonville); Charter (Piedmont, Southside and Heflin); Leesburg Cable; Collinsville Cable; Lookout Cable (Gaylesville); and Cherokee Co. Cable (Centre).  Family and friends can also view the graduation ceremony live from their home computers here.   
Photo: Sydney Jones (Jenn Davis courtesy).